a
Naval Forces News - France
French MoD Orders a Fourth B2M Multi Mission Vessel from Kership for Marine Nationale
The French procurement agency (DGA) confirmed on 18 January 2017 to Kership, co-owned by Piriou shipyard and DCNS, the construction of the 4th multi-mission vessel B2M (for bâtiment multi-missions) which will be named the Dumont d'Urville. This order complements an initial order for three vessels of the class placed on December 30, 2013 for the French Navy (Marine Nationale).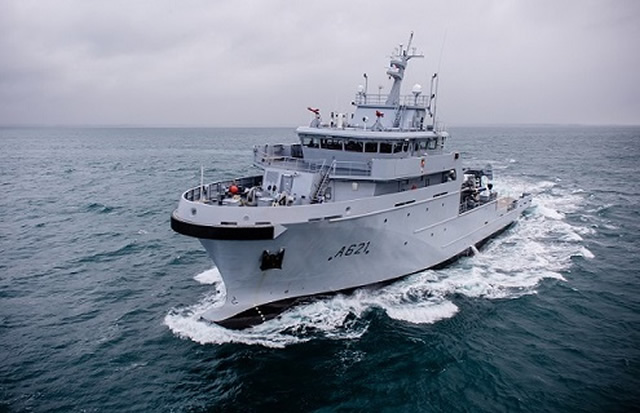 File picture of first ship of the class d'Entrecasteaux during sea trials. Picture: DGA
Given the capacities of the class, Defense Minister Jean-Yves le Drian decided in 2015, to update military planning law and order a fourth ship, destined for the French West Indies. It will be delivered in the second half of 2018.

First ship of the class D'Entrecasteaux was commissioned in April 2016 and recently joined its home port of Noumea in New Caledonia.

The second B2M Bougainville was delivered to the French Navy in September last year and is intended to be based in Tahiti in the Pacific (home base of the French Navy Pacific Fleet "ALPACI").

The third vessel of the class Champlain will be based on the Island of Reunion in the Indian Ocean. It was delivered to the French Navy last month (former base of the French Navy Indian Ocean Fleet "ALINDIEN" which has since been moved to Abu Dhabi; A relatively large French Navy presence remains on Reunion Island however).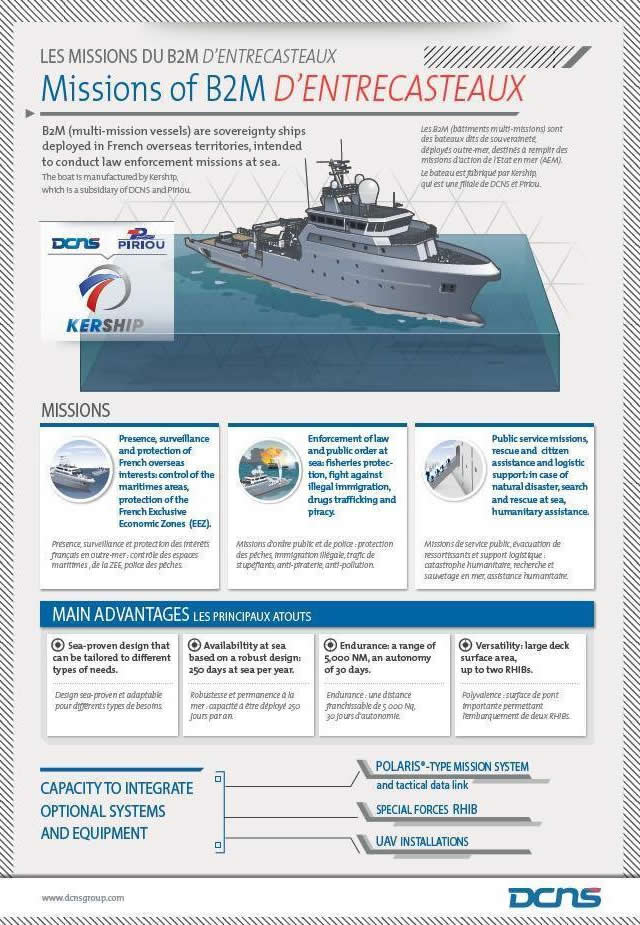 DCNS Infographics
About B2M
These vessels are designed to ensure the overseas missions of sovereignty: presence, monitoring and protection of French interests in exclusive economic zones, projection forces, logistical support and backup and support for the populations.

The class has a top speed of 12 to 15 knots. They have a long endurance of approximately 30 days of operation without replenishment. They carry a work boat of about 8 metres long and semi-rigid boats, and will have a crane for loading and unloading containers. They will also be capable of deploying divers and carrying weapons and munitions.

According to the French Procurement Agency (DGA), these vessels:
- have the ability to project 20 personnel (joint, police or gendarmerie) with two 4x4 vehicles along with their weapons and ammunition.
- will ensure the evacuation of citizens and have the ability to deploy and support divers and equipment (including drones) to conduct underwater interventions.
- Under the state action at sea, they will provide fisheries police missions, and contribute to the fight against illegal immigration, drug trafficking and piracy.
- They will assist ships in distress and participate in safeguarding people and property, through their firefighting means and towing capacity of up to 30 tons