a
Naval Forces News - Turkmenistan
Turkmenistan Coast Guard Vessel Spotted with SIMBAD-RC Short Range Naval Air Defence System
According to Turkmen media, President of Turkmenistan Gurbanguly Berdimuhamedov visited the country's maritime forces based in the city of Turkmenbashi on the Caspian Sea coast. During this visit, MBDA's SIMBAD-RC short range naval air defence systems were spotted for the first time on at least two Turkmenistan Coast Guard patrol boat: SG 111 Arkadag and SG 113 Merdana.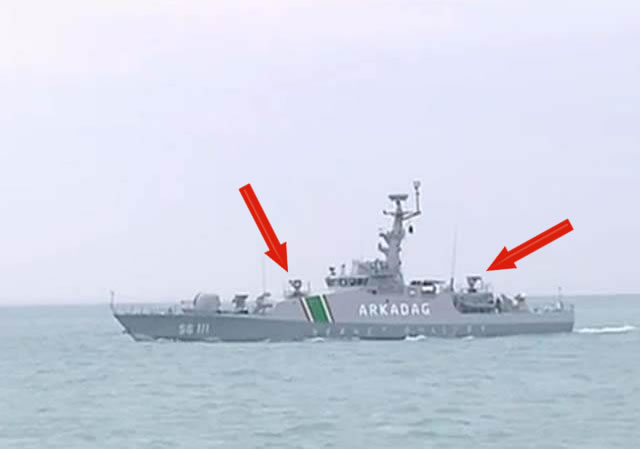 Turkmenistan Coast Guard patrol boat SG111 Arkadag fitted with 2x SIMBAD-RC turrets. Picture via http://bmpd.livejournal.com / www.chrono-tm.org
Turkmenistan took delivery of 10 patrol boats built by Turkey's DEARSAN shipyard. The Turkmen vessels are based on the Tuzla-class / NTPB (New Type Patrol Boat) project design of the Turkish Navy. The vessels displace 400 tons with a length of 55.75 meters and a crew of 35 sailors.

The Turken patrol boats are fitted with two SIMBAD-RC launcher each, one forward, ahead of the deckhouse and one aft. Both are located on dedicated platforms. It is unclear however whether all Turkmen vessels of this type of (eight in service with the Coast Guard / State Border Service and two with the Navy) have received these systems.

Video: SIMBAD-RC at Euronaval 2016
According to MBDA, the SIMBAD-RC (Système Integré de Mistral Bitube d'Auto-Défense - Remotely-Controlled) is a remotely-controlled, very short range naval air defence system that provides highly efficient capabilities against a wide range of threats, from fighter aircraft through to anti-ship missiles or small-sized threats such as Unmanned Air Vehicles. SIMBAD-RC gives an easy to set up, self-defence capability to patrol vessels and support craft, or complements the air defence capabilities of other ship types. Each turret supports two ready-to-fire missiles. The turrets are remotely-operated and so allow the operator to remain under cover, thereby ensuring longer operational availability in case of a combat alert.

The turret itself was developped by Germany's Rheinmetall on behalf of MBDA while the thermal imagers if supplied by Safran (Sagem's MATIS SP). A SIMBAD-RC turret weighs about 500 Kg. The system is capable of single or salvo missile launches. The Mistral missile weighs 18.7 kg missiles with a firing range of up to 6.5 km.

Final trials of the system were announced by MBDA in March 2016.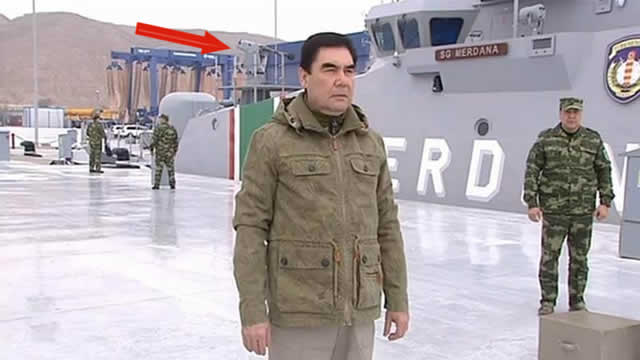 Turkmenistan Coast Guard patrol boat SG113 Merdana with its forward SIMBAD-RC turret visible. (President of Turkmenistan Gurbanguly Berdimuhamedov on the foreground). Picture via http://bmpd.livejournal.com / www.chrono-tm.org
In 2015 it became public that MBDA Italy was implementing the "Tetris" project for the supply of several naval weapon system to the Turkmen naval forces. The project reportedly involved:
- Otomat Mk 2 (probably, Block IV modifications also called Teseo Mk2/A) anti-ship missiles
- Marte Mk 2 / N anti-ship missiles
- SIMBAD-RC

Otomat Mk 2 are likely fitted on the Turkmen NTPB patrol vessels, although there are no confirmation about this to date.

These recent pictures confirm that Turkmenistan because the first operator of the SIMBAD-RC system. The second known customer will be the Royal Saudi Navy for the overhaul and upgrade of two Boraida-class auxiliary replenishment ships: Boraida and Yunbou, both based on the French Durance-class of replenishment ships.