a
Naval Defense Industry News - Israel, Belgium
Elbit Systems' Seagull USV Demonstrated its Operational Capabilities in Belgian Navy MCM Trials
Seagull, Elbit Systems' groundbreaking Multi-Mission USV, participated in the bi- national MCM trials for unmanned maritime systems that were organized by the Directorate General of Material Resources (DGMR) of the Belgian Defence Ministry. Taking part in the trials conducted at the beginning of June off the Belgian Zeebrugge Naval Base, were several companies operating different types of unmanned underwater and surface vehicles.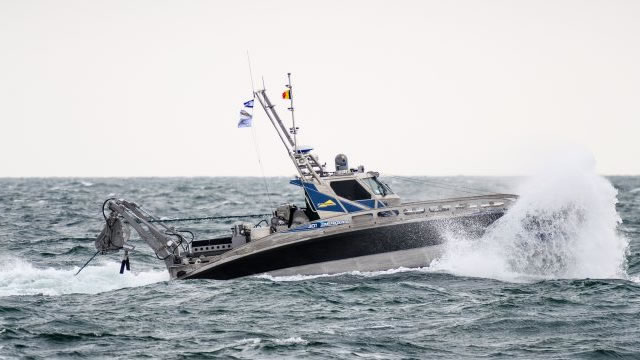 Seagull carried out an autonomous end-to- end unmanned MineCounter Measure (MCM) mission in sea states 5 and 6, demonstrating leading real-time mine hunting capabilities.
Picture: Elbit Systems

Seagull is a 12-meter long USV that can be operated from a mother-ship or from shore stations. It provides multi-mission capabilities including Anti-Submarine Warfare (ASW), Mine Hunting & Mine Sweeping (MCM), Electronic Warfare (EW), maritime security and underwater commercial missions, leveraging modular mission system installation and offering a high level of autonomy. It features inherent C4I capabilities for enhanced situation awareness and mission endurance of more than four days.

In the bi-national Belgium - Dutch MCM Trials, a single Seagull unit demonstrated MCM mission execution scanning the whole water column in one path, operating both the K5900 Side Scan Sonar (SSS) and the R2Sonic Forward Looking Sonar (FLS) for Search, Detection and Classification. On the second day the same Seagull platform, operating a VideoRay ROV ,a light Remotely Operated Vehicle, conducted the Identification and Demolition Phase of the Mine Hunting Mission.
Video interview on SEAGULL USV at MAST Asia in Japan
Elbit Systems displayed Seagull's quick mission ready capabilities in an unfamiliar setup, installing a mobile Command and Control unit onboard a Belgian Pollux Patrol Boat and completing all tasks in just a few hours.

The Seagull team included three operators, with two operators remotely managing the mission and the third monitoring the autonomous cruise. Operating on Elbit Systems proprietary software that includes modules for change detection and automatic target detection, Seagull performed real-time detections, mapping and classification of Mine Like Objects (MLOs). Seagull's strong operational capabilities were on full display when it cruised at a speed of 10 knots in sea states 5 and 6, scanning three different areas, three times the size that was scanned by Autonomous Underwater Vessels )AUVs(, emphasizing the Seagull's clear advantage of processing imagery and generating actionable data in real time and issuing an on the spot report to the Belgian Navy. At the request of the Belgian Navy, the Seagull demonstration was also conducted based on Line-of- Sight (LOS) communication, despite Seagull's capability to operate using Beyond-Line- of-Sight (BLOS) communication as was demonstrated by Elbit Systems in both the recent IMDEX 2017 Show and previously during the Euro Naval Show in October 2016.

Yaron Levy, VP of Naval Systems in Elbit Systems ISTAR Division, commented:

"The bi-national trials that were conducted by the Belgian Navy clearly demonstrated the unmatched operational capabilities of the Seagull. We see a growing interest in the novel capabilities that the Seagull provides for executing top quality and cost effective MCM, ASW and commercial underwater missions".