a
Naval Forces News - Russia, India
Russia & India choose shipyards to build Third Batch of Talwar Project 11356 Frigates
Russia and India have chosen shipyards that will build Project 11356 frigates for the Indian Navy, the press office of Russia's Federal Service for Military and Technical Cooperation told TASS.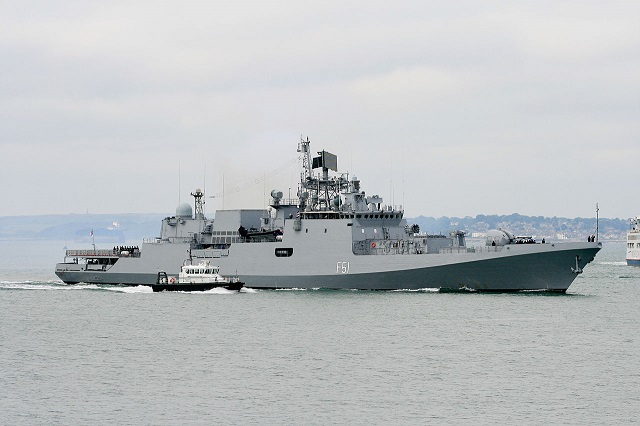 INS Trikand at Portsmouth Naval Base, UK.
Brian Burnell picture.

The contract may be signed this year, the press office added.

"The sides are making efforts to sign the relevant contract. We hope that this will happen in 2017. Two frigates will be built by Russia's Yantar Shipyard. Two more ships will be produced with Russian technical support on the Indian territory by the Goa Shipyard selected by India's government," the press office said.

In October 2016, Russia and India signed a number of military and technical cooperation agreements, including contracts for the delivery of S-400 Triumf (NATO reporting name: SA-21 Growler) air defense missile systems and the production of Project 11356 frigates for India's Navy.

In was reported in 2016 that Russia was in talks with India to sell the second three Project 11356 frigates earlier designed for the Russian Black Sea Fleet. Two of them were laid down by the Yantar Shipyard in 2013.

The Project 11356 frigate has a displacement of about 4,000 tons, a speed of 30 knots and a cruising capacity of 30 days.

Three ships of the type have been built for the Black Sea Fleet.

© Copyright 2017 TASS. All rights reserved. This material may not be published, broadcast, rewritten or redistributed.