a
Naval Forces News - Russia
Improved Variant of Russian Project 22350 Frigates Could Operate as Destroyers
Modernized frigates of project 22350 have more powerful armaments and can operate as destroyers, United Shipbuilding Corporation Vice President for military shipbuilding and Northern Shipyard Director General Igor Ponomarev told TASS during the IMDS 2017 naval show.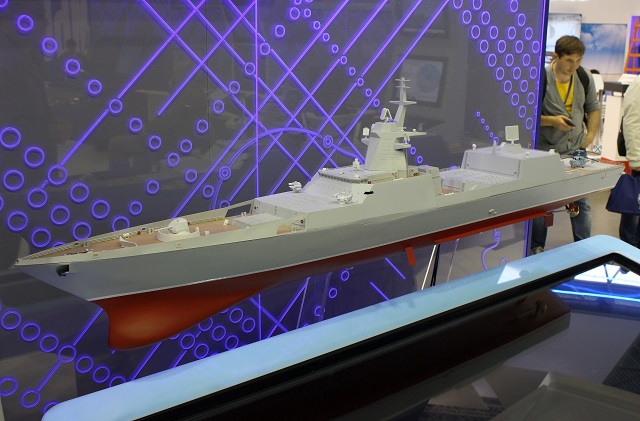 Scale model of an improved Project 22350 frigate on display during IMDS 2017. Note the increased number of VLS cells, just in front of the bridge and in front of the helicopter hangar. It also features the new generation integrated mast of the same family as the one fitted aboard the new Project 20385 corvette. Picture by Curious via Forums.airbase.ru.
"The warships have stronger arms and bigger displacement. They can operate differently than frigates and engage as destroyers," he said.

The frigates differ from destroyers by smaller displacement and consequently less powerful armaments. Although the missions of the two classes of ships are mostly identical in modern navy, destroyers have bigger capabilities for independent actions due to more powerful weapons and expanded radio-electronic equipment. Destroyers can also engage as leaders of attack groupings of warships.

Russian Defense Minister Sergei Shoigu earlier said frigates of project 22350 will become the main warships of the Russian Navy. Navy Commander-in-Chief Vladimir Korolev said in late June the fleet was to receive four frigates of project 22350 by 2020. The warships will be upgraded. Head of the United Shipbuilding Corporation Alexei Rakhmanov said the frigates will be bigger than the current project 22350 both in the armaments and engagement efficiency. R&D to modernize the project is ongoing.

© Copyright 2017 TASS. All rights reserved. This material may not be published, broadcast, rewritten or redistributed.