a
Naval Forces News - France
French President Macron Aboard Marine Nationale's SSBN Le Terrible
French President Emmanuel Macron spent a few hours underway and underwater aboard "Le Terrible" (S619), a Le Triomphant-class nuclear-powered ballistic missile submarine (SSBN). Macron's move intended to signal his commitment to France's nuclear deterrent.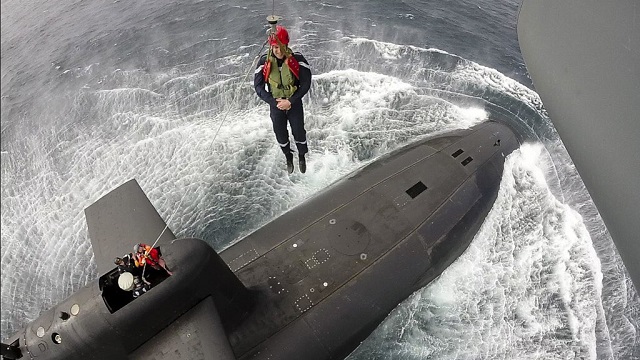 President Macron being winched down aboard Le Terrible SSBN from an NH90NFH helicopter.
Macron is the third French President to dive aboard an SSBN. He was preceded by presidents Hollande in 2012 and Giscard d'Estaing in 1974.

Following a visit to L'ile Longue SSBN base, President Macron was taken by a French Navy NH90NFH helicopter to the submarine in the Atlantic Ocean, about 300km (186 miles) off Brittany's coast. He was then winched down aboard the submarine. While underway aboard the submarine, President Macron took part in a simulated M51 ballistic missile launch.

President Macron has yet to give his customary speed on French nuclear doctrine, a speech that each French president give usually early after taking office.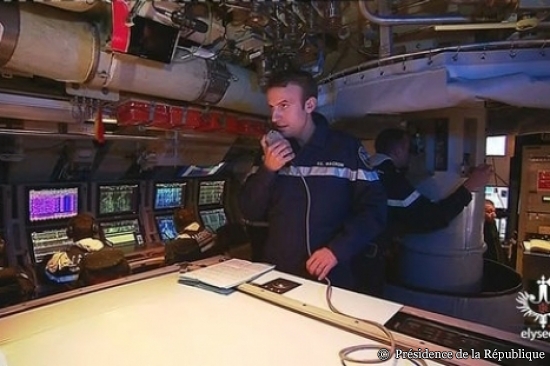 President Macron in the CIC of Le Terrible
M51 SLBM
The M51 is the new generation intercontinental SLBM gradually replacing the M45 since 2010. Each missile carries six to ten independently targetable (MIRV or Multiple Independently targeted Reentry Vehicle) TN 75 thermonuclear warheads. TN 75 will be replaced with the new Tête nucléaire océanique (TNO or oceanic nuclear warhead) warheads starting this year (2015). These new warheads are reported to be maneuverable (MARV or Maneuverable Re-entry Vehicle) in order to avoid potential ballistic defenses. The TNO has a yield that is estimated to be greater than or equal to the yield of the TN 75 warhead, 150 kilotons of TNT (kt) with a CEP (circular error probability) of 150 meters. The warhead's design and functionality were validated through simulation, particularly with DAM's Tera 100 supercomputer, Megajoule laser, and radiographic equipment.

The three-stage engine of the M51 is directly derived from the solid propellant boosters of the Ariane 5 space rocket. Open source data indicates an M51 weight of 52,000 kg, a length of 12.0 m and a diameter of 2.3 m. M51 operational range is reported to be 8,000 to 10,000 km with a speed of Mach 25.

The first test launch of an M51 ballistic missile was successfully carried out at Centre d'essais de lancement de missiles (CELM) in Biscarosse, France, on November 9, 2006. The sixth missile test carried out on May 5, 2013, ended in failure. The latest M51 test in September 2015, and July 2016 were both successful.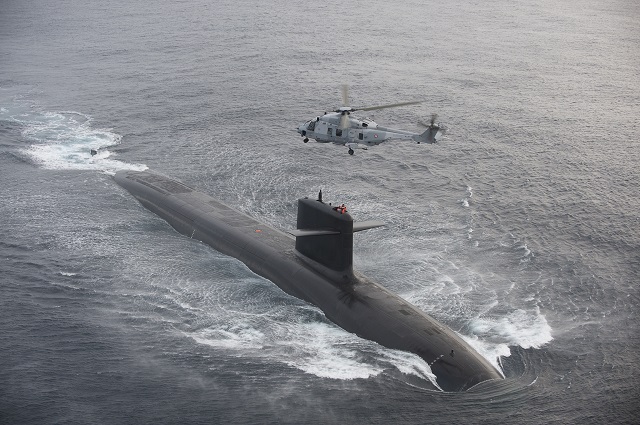 An NH90 NFH Caiman transfers personnel on board French Navy Le Triomphant class SSBN.
File Picture: V.Guyoton © Marine Nationale
Le Triomphant-class SSBN
The Triomphant class of ballistic missile submarines of the French Navy is the active lead boat class of four boats that entered service in 1997, 1999, 2004, and 2010. These four supersede the older Redoutable class, and they provide the ocean-based component (strategic oceanic force (FOST) Force océanique stratégique) of France's nuclear deterrent strike force.

Le Terrible, last ship of the class which was commissioned in 2010, was fitted with M51 capability from its construction. The other three SSBNs originally deployed M45 missiles and were upgraded for the new M51 missile by DCNS.

SNLE 3G / FMOD Futur Moyen Oceanique de Dissuasion
As the life of a nuclear submarine is 40 years, the question of the replacement of the Triomphant class is about to arise, for a replacement of the class in the 2030ies. To this end, the French Procurement Agency (DGA) budgeted in 2012 the first studies for the so-called "SNLE 3G" program, the 3rd generation of French SSBNs.