a
Naval Forces News - South Korea
DSME Delivers Sixth Type 214 – KSS-2 Diesel Electric Submarine to ROK Navy
South Korea's Defense Acquisition Program Administration (DAPA) announced today that shipbuilder Daewoo Shipbuilding and Marine Engineering (DSME) delivered the sixth KSS-2 (Type 214 Jang Bogo-II class) diesel-electric submarine (SSK) to the Republic of Korea Navy's (ROK Navy). The submarine is nammed "Yu Gwan-sun", a patriotic martyr who fought for Korean independence.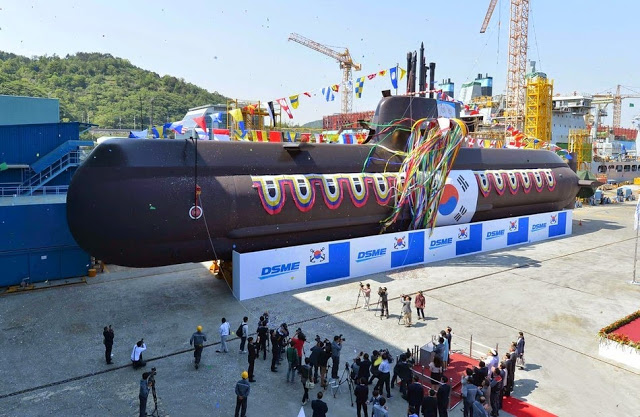 RoKS Yu Gwan-sun (078) is the sixth Type 214 SSK of the ROK Navy. Picture: DAPA.

The delivery ceremony of the submarine was held at the DSME shipyard on Geoje Island near the country's southeastern port city of Busan. The 65 meters, air-independent propulsion (AIP) submarine RoKS Yu Gwan-sun (078) was launched in Geoje on 7 May 2015. DSME was also responsible for building the fourth boat in the class, Kim Jwa-Jin (076).

"The Yu Gwan-sun is the world's top-class diesel-powered submarine capable of handling more than 300 underwater targets at the same time," said Choi Hee-kyung, a DAPA official in charge of the program. "Equipped with a fuel battery system, it can conduct underwater operations for 10 days or longer without surfacing above the water." "This reinforces the underwater power of our Navy, which is numerically inferior to North Korea and its 80 submarines" he added.

The ROK Navy plans to commission the new submarine in December this year.

The KSS-2 class is powered by two MTU engines and has a top speed of 20 kt submerged and 12 kt surfaced. The SSKs are armed with eight 533 mm torpedo tubes and can dive to depths of up to 400 m. The submarines are also capable of deploying sea mines.