a
Naval Forces News - USA
Video: ONR Demonstrates Multi-Shot Salvo with Electromagnetic Railgun
The Office of Naval Research (ONR) released a video showing a demonstration of the U.S. Navy's electromagnetic railgun initial rep-rate fires of multi-shot salvos at the Naval Surface Warfare Center Dahlgren Division. The revolutionary railgun relies on a massive electrical pulse, rather than gunpowder or other chemical propellants, to launch projectiles at distances over 100 nautical miles – and at speeds that exceed Mach 6.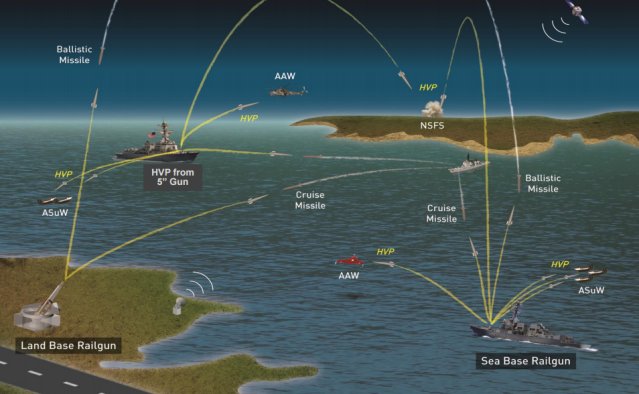 The US Navy future Railgun is intended to be a land- and sea-based system, capable to hit cruise missiles, as well as aerial and surface targets
EM railgun technology uses an electromagnetic force - known as the Lorentz Force - to rapidly accelerate and launch a projectile between two conductive rails. This guided projectile is launched at such high velocities that it can achieve greater ranges than conventional guns. It maintains enough kinetic energy that it doesn't require any kind of high explosive payload when it reaches its target. According to the US Navy, the Railgun will be capable to hit target at distance reaching 110 nautical miles, in 32 Mega Joule Railgun configuration (50 nautical miles with the 20 MJ Railgun variant).
ONR video of the recent EM railgun salvo test

The above video shows the 32 Mega Joule prototype EM railgun located at the Naval Surface Warfare Center Dahlgren Division demonstarting a "multi shot salvo". Two projectiles are fired in a 12 seconds span (approximately or about 5 rounds per minute). The US Navy objective is to eventually double this rate of fire and reach 10 rounds per minutes.