a
Naval Industry News - Russia
Pella Shipyard in Northwest Russia Launched a Project 03160 Raptor Patrol Boat for Baltic Fleet
The Pella Shipyard in the Leningrad Region in northwest Russia has floated out another Project 03160 patrol boat, the Defense Ministry's press office said. "After the boat passes all stages of its trials, it is planned to join the Russian Navy's Baltic Fleet," the press office added.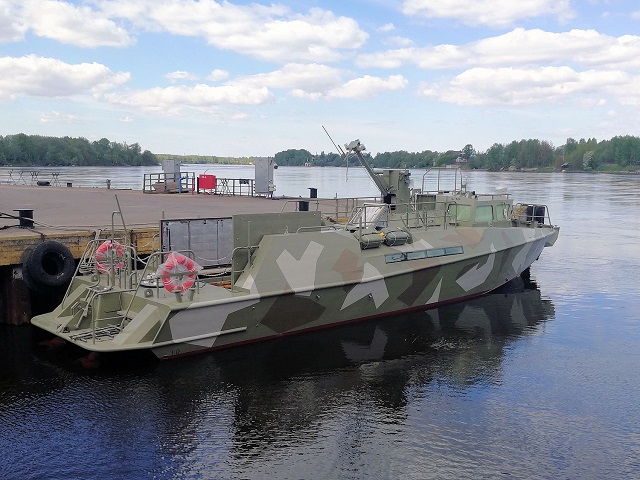 The Pella Shipyard in St. Petersburg in northwest Russia has floated out a Project 03160 Raptor-class high-speed patrol boats designed for the Russian Navy Baltic Fleet. Picture: Pella Shipyard
The Project 03160 boat is designed to patrol water areas, intercept small targets, carry out search and rescue operations and transport military personnel.

The boat can operate in coastal sea areas, straits and river outlets during the ice-free navigation period both in the daytime and at night 100 miles away from the home station.

The boat has a maximum length of 16.9 meters, a maximum width of 4.1 meters, a draught of 0.9 meters and a speed of 50 knots. The boat's crew totals three. The boat has armor plates with Class Br4 bullet resistance and portholes with 39mm bullet-proof glass

Russian TV report on the Raptor & Pella Shipyard
The boat is armed with a 14.5 mm remote-controlled system with a gyro-stabilized electro-optical module. The boat's target acquisition range is three kilometers (1.9 miles) and its fire range is two kilometers (1.2 miles). The boat has two pedestal-mounted 6P41 7.62mm Pecheneg machineguns.



© Copyright 201 TASS. All rights reserved. This material may not be published, broadcast, rewritten or redistributed.