a
Naval Forces News - Russia

Russian Navy Next Generation Frigates to be Based on Project 22350 Gorshkov-class
The next generation frigates with increased displacement and reinforced armament suite will be based on the Project 22350 frigates, the President of the United Shipbuilding Corporation (USC) Alexey Rakhmanov told TASS. Russia`s Minister of Defense, General of the Army Sergei Shoigu said previously that the Project 22350 frigates would form the Russian Navy`s backbone.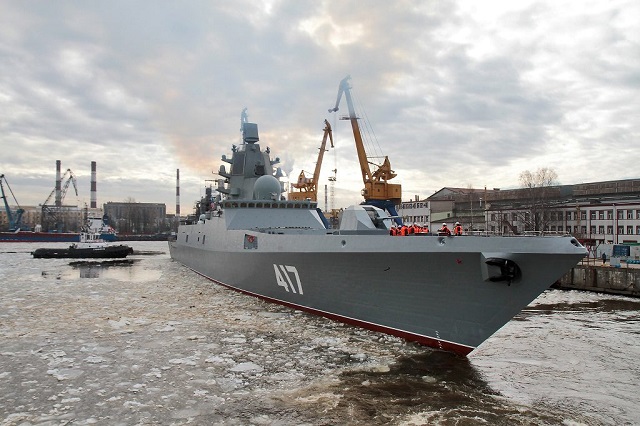 The Admiral Gorshkov frigate is the lead vessel of Project 22350.
"She [the frigate] will be evolving in a drastic manner. The ship will be bigger that the Project 22350 [frigates]. She will feature a more powerful armament suite and an increased effectiveness," Rakhmanov said commenting the statement by the Minister.

"The armament suite will be reinforced certainly. Regarding the displacement, we will have to change her dimensions to incorporate a heavier armament suite and the frigate may become bigger," the head of the USC added. However, the new ship would remain a frigate not transforming into a destroyer, he pointed out.

The research and development works on the upgrade of the Project 22350 are underway, according to Rakhmanov.

The third Project 22350 frigate, 'Admiral Golovko', is planned to be launched in 2017. "The 'Admiral Golovko' ship will be launched this year to all appearance. The deliveries of its main instruments and components are supposed to be started since mid-2017. Therefore, we are planning to catch up the shifted schedules," the President of the Corporation said.

He reminded that the 'Admiral Gorshkov' ship had started the final stage of the state trials. Rakhmanov expressed the hope that they would finish in Summer and the St Andrew`s flag-raising ceremony would take place.

"She will become the newest naval combatant, only once her main complexes and systems are in good working order meeting the original terms of reference," he pointed out. The Navy is planning to get the second Project 22350 frigate, 'Admiral Kasatonov', in 2018.

Previously, Russia`s Vice Premier Dmitry Rogozin said that the new state armament program through 2025 would focus on the building of the corvettes and frigates armed with guided weapons.

© Copyright 2017 TASS. All rights reserved. This material may not be published, broadcast, rewritten or redistributed.