a
Naval Forces News - Russia

Russian Shipyard Launched Two Project 23040 SAR Ships for Russian Navy
The Nizhny Novgorod Steamship Shipyard floated two latest search-and-rescue boats of project 23040 for the Russian Navy to renew its search-and-rescue capabilities. They became the 19th and 20th boats out of a total of 22 units built for the Northern, Pacific, Black Sea, Baltic fleets and the Caspian flotilla, the press service of the Russian defense ministry said.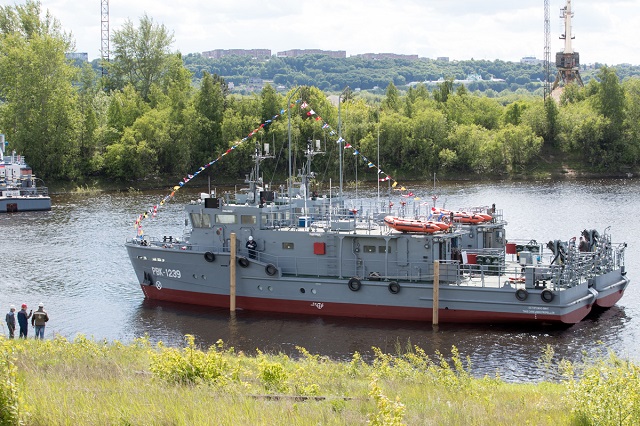 On 8 June 2017, Nizhegorodsky Teplokhod Shipyard (ZNT Yard) launched two SAR boats of Project 23040, PBK-1239 and PBK-1261.
"Harbor diving boats of project 23040 have been built by the Nizhny Novgorod Steamship Shipyard since 2013. The new boats have upgraded characteristics against the previous generation. Thus, along with diving operations at depths of up to 60 meters with a 3-meter fall of the sea the new generation boats can engage in search and study operations with the use of a small-size remotely-controlled unmanned underwater craft and towed active sonar," it said.

Besides, boats of project 23040 can efficiently extinguish fires on warships and vessels, 30-meter high floating and coastal objects, pump water from a shipwreck, provide electricity to a warship or vessel in distress.

© Copyright 2017 TASS. All rights reserved. This material may not be published, broadcast, rewritten or redistributed.