a
Naval Industry News - Australia
First Air Warfare Destroyer HMAS Hobart Handed Over to Royal Australian Navy
Today, the Air Warfare Destroyer (AWD) Alliance celebrated the Government's provisional acceptance of the first destroyer, Hobart, at the Osborne Naval Shipyard in South Australia. Hobart is the first of three destroyers being built and integrated by the AWD Alliance which comprises the Department of Defence, Raytheon Australia and ASC with support from Navantia. In the coming months, Hobart will transit from Adelaide to Sydney where she will be commissioned into service by the Royal Australian Navy (RAN) later this year.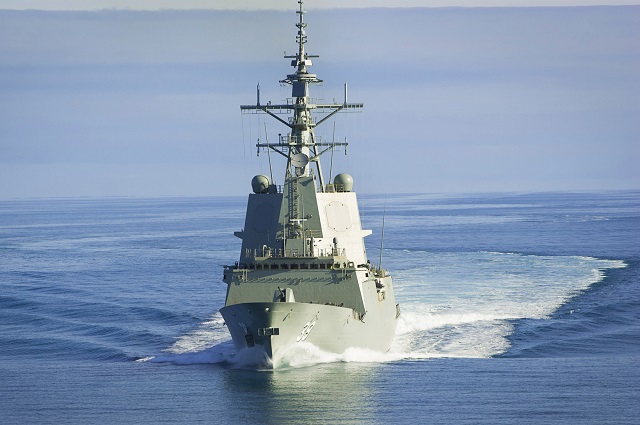 The first Air Warfare Destroyer HMAS Hobart
AWD Alliance General Manager Paul Evans said today's provisional acceptance is a testament to more than 5,000 Australian shipbuilders and systems integrators who have worked on the AWD program over the past decade.

"Ten years ago, the AWD Alliance was formed to undertake the complex task of designing, constructing, integrating and testing a new class of warships for Australia. Along the way, we have created an entire workforce of highly skilled Australian shipbuilders, program managers and systems integrators."

The importance of this workforce was reinforced by AWD Program Manager Commodore (CDRE) Craig Bourke. "I am proud to see our workforce meeting the program's cost and schedule targets since the implementation of the Government's successful reform initiative."

"With Hobart entering service later this year, the Royal Australian Navy will gain an extremely capable surface combatant capability – one which will provide new levels of safety across an entire task force. Hobart will also allow our Navy to work more closely with our allies than ever before, because of its combination of US and Australian technology," said CDRE Bourke.

CDRE Bourke also commended the Defence industry involvement in the AWD program over the past decade as a true example of industry's shift to becoming a fundamental input into capability.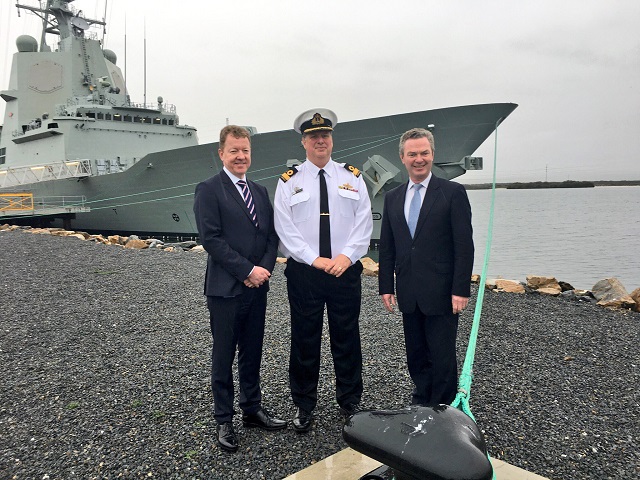 The first Air Warfare Destroyer HMAS Hobart handed over to the RAN
The AWD Alliance industry participants also expressed their pride in today's achievement, including ASC Shipbuilding Chief Executive Officer, Mark Lamarre. "Delivery of the first destroyer Hobart represents the contribution of over 1,500 dedicated and highly skilled shipbuilders, working together over more than a decade to deliver the RAN a potent new air warfare capability," he said.

"ASC Shipbuilding and our skilled workforce are immensely proud of building the Hobart ship platform, which successfully completed all sea trials with flying colours and will be critical to Hobart and its crew serving safely and effectively. It is another successful milestone on the AWD journey proving the highly skilled and professional naval capability that exists here in South Australia," said Mr Lamarre.

Raytheon Australia Managing Director Michael Ward acknowledged the significance of today's event, commenting on the contribution of AWD's combat systems integration workforce. "As the combat systems integrator for the AWD program, Raytheon Australia has applied its highly skilled Australian workforce of 350 architects, systems engineers and project managers to the AWD project over the last decade," he said.

"The AWD's combat system integration activities represent some of the most advanced engineering and project management skills in this country. It is extremely satisfying that our strong investment in local capabilities has contributed so much to this provisional acceptance milestone today.

"Raytheon Australia is responsible for the integration of ten major subsystems, including the Aegis Weapon System, which is provided through Foreign Military Sales, and associated delivery of more than 3,500 major pieces of combat system equipment required to establish the warfighting capability of the AWD. This will contribute to making the AWD the most lethal and sophisticated warship ever operated by the RAN.

"The success of the combat system integration activity is a source of tremendous pride for Raytheon Australia. Not only have we performed admirably on this project but we have built for Australia a national asset in combat system integration," said Mr Ward.

Finally, Managing Director Navantia Australia Paco Barón also praised the Alliance team on their achievement today. "Navantia Australia is proud to be part of this magnificent Australian naval shipbuilding milestone. Our team, working together with the Alliance, has contributed significantly to this great achievement," he said.

"The acceptance of Hobart by the Commonwealth signifies what can be undertaken by Australian industry and bodes well for future shipbuilding programs in this country," said Mr Barón.