a
Naval Forces News - Russia
Ilya Muromets Icebreaker to Join Russian Navy Arctic Force by Year End
The Project 21180 icebreaker Ilya Muromets will join the Russian Navy before the end of this year, the Russian Defense Ministry reported.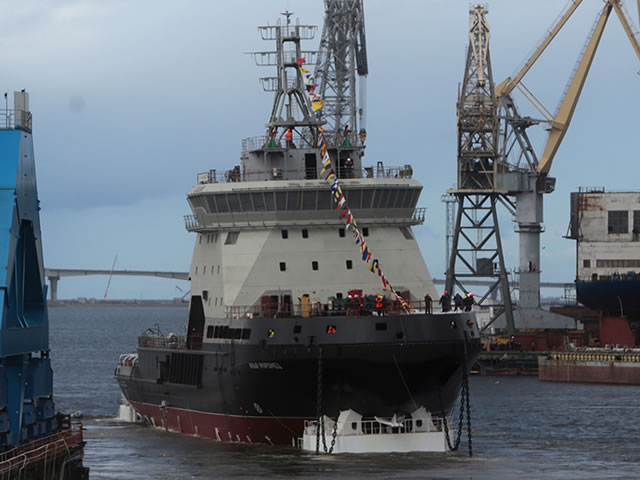 The First Project 21180 Icebreaker Ilya Muromets. Picture: JSC Admiralty Shipyard
"The icebreaker Ilya Muromets is scheduled to start the builders sea trials in mid- July of this year. It will join the Navy before the end of 2017 after all testing stages are completed," the report said.

Currently, the icebreaker is completing its mooring tests at the shipyard's quay. On-board equipment is being adjusted and the sheeting of rooms is being finished on the icebreaker.

The vessel under construction for the Northern Fleet was laid on April 23, 2015. This is the first icebreaker over the past 45 years, which is being built exclusively for the Navy's needs.

Earlier, Aleksei Rakhmanov, Head of the United Shipbuilding Corporation, said that in the future, a series of such icebreakers could be built for the Arctic in the framework of the auxiliary fleet upgrading program. He explained that the Project 21180 icebreaker is intended, in particular, for basing and deploying naval forces in ice conditions, as well as towing warships. The decision to build new icebreakers for the Russian Navy will be made based on the results of the operation of the lead vessel.

The displacement of the Muromets will be 6,000 tons. Its design incorporates new electric propulsion principles and a modern power plant. It is assumed that the crew will consist of 32 people, while the endurance of the ship will reach 60 days and the range will be as long as 12,000 miles. The icebreaker will be able to overcome the 80-cm-thick ice field.



© Copyright 2017 TASS. All rights reserved. This material may not be published, broadcast, rewritten or redistributed.