a
Naval Forces News - Russia
Delivery of Third Project 11356 Frigate Admiral Makarov Slips to November 2017
The Project 11356 (NATO reporting name: Admiral Grigorovich-class) Admiral Makarov frigate built by the Yantar Shipyard in Kaliningrad in west Russia and armed with precision missile weapons will join the Russian Black Sea Fleet in November 2017, the Defense Ministry's press office said. [Navy Recognition comment: The vessel was originaly expected to be delivered in June, according to previous reports].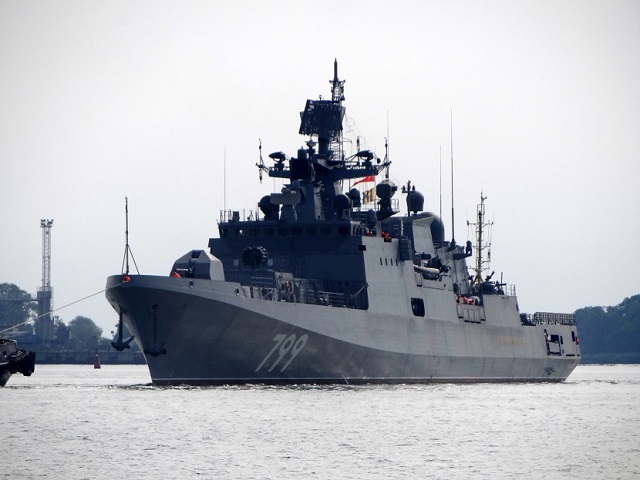 The third Admiral Grigorovich class Frigate of the Russian Navy. Picture: Drakon 64 / forums.airbase.ru
"The Project 11356 frigate Admiral Makarov is planned to join the Black Sea Fleet and arrive at its home station in November 2017 after it completes all stages of its trials and is prepared for a passage from the Baltic Sea to the Black Sea," the press office quoted Navy Deputy Commander-in-Chief Vice-Admiral Viktor Bursuk as saying.

According to Bursuk, the ship will make the Black Sea Fleet's operation in its area of responsibility more effective.

The frigate Admiral Makarov was laid down by the Yantar Shipyard on February 29, 2012 and floated out on September 2, 2015. It is the third Project 11356 ship built by the Yantar Shipyard on order of the Defense Ministry.

The first two Project 11356 frigates, the Admiral Grigorovich and the Admiral Essen, were delivered to the Black Sea Fleet on March 11, 2016 and June 7, 2016, respectively.

The Project 11356 frigate is designed to attack the enemy's surface ships and submarines at short and long ranges and fight aerial threats both independently and within a formation.

The Project 11356 frigate is armed with the A-190 100mm gun, air defense missile systems, including the Kalibr (NATO reporting name: SS-N-27 Sizzler) and Shtil systems, and torpedo tubes. The ship can carry a Kamov Ka-27 (Helix-A) helicopter or its versions.



© Copyright 2017 TASS. All rights reserved. This material may not be published, broadcast, rewritten or redistributed.