a
Naval Defense Industry News - Kongsberg & Raytheon NSM

Raytheon, Kongsberg to offer Naval Strike Missile for US Navy over-the-horizon requirement
Raytheon Company and Kongsberg Gruppen will offer the Naval Strike Missile to meet the U.S. Navy's over-the-horizon requirement for its littoral combat ships and future frigates. The team will meet the U.S. Navy's June 23 proposal deadline.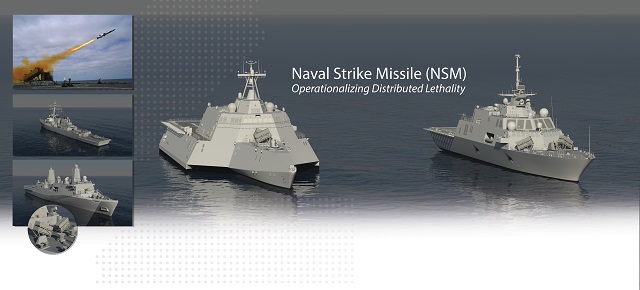 Kongsberg image

NSM is a long-range, precision missile that provides superior strike capability against heavily defended land and sea targets. The proven missile features unmatched ability to penetrate modern enemy defense systems plus advanced seeker and target identification technology.

"NSM is the only missile of its class that is ready today to add critical, long-range firepower to naval ships," said Mike Jarrett, Raytheon Air Warfare Systems vice president. "NSM is proven technology that will create new jobs in America and save the United States billions of dollars in development costs."
Video interview on NSM at SNA 2017
Raytheon will produce NSM launchers, missiles and components in the United States, beginning with work in Louisville, Ky., and Tucson, Ariz. The missile program is the latest product of a longtime partnership with trusted ally Norway and its defense leader Kongsberg.

"NSM is the main weapon for Norway's new frigates and coastal corvettes, and gives today's ships the firepower they need to defeat evolving threats," said Pål Bratlie, Kongsberg executive vice president. "The missile will help fulfill the U.S. Navy's vision of ensuring freedom of access to seas around the world."

Hans Kongelf, Vice President of Missile Systems at Kongsberg previously told Navy Recognition that the main strength of the NSM are:
- Defense penetration capabilities thanks to its stealth, extremely low sea-skimming flight profile and high G maneuvers.
- Target recognition: Each NSM is fitted with a library of ship profiles to recognize each ship classes.
- NSM is available today, it is in production, fielded by the Royal Norwegian Navy, the Polish Navy and selected by the Royal Malaysian Navy.