a
Naval Defense Industry News - USA

Raytheon Restarts SM-2 Production for the Netherlands Japan Australia and South Korea
Due to global demand, Raytheon Company has restarted its Standard Missile-2 production line to meet the needs of four international customers who aligned requirements and pooled resources to make a 'bundle' purchase through foreign military sales.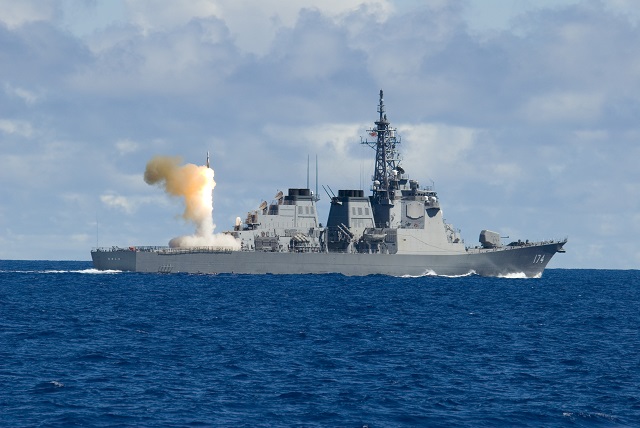 Kongo-class Aegis destroyer JS Kirishima launches an SM-2 missile.
The Netherlands, Japan, Australia and South Korea are purchasing SM-2 under this new contact. The missile defends navies against anti-ship missiles and aircraft out to 90 nautical miles and an altitude of 65,000 feet. SM-2 has an extensive flight test history with more than 2,700 successful live firings.

"For many of our allies, SM-2 is the backbone of their fleet defense, but in 2013, we simply didn't have the international orders necessary to keep the production line going," said Dr. Taylor W. Lawrence, president of Raytheon Missile Systems. "That's changed now, and we'll continue producing SM-2s well beyond 2035."

New deliveries are scheduled to begin in 2020 and will include more than 280 SM-2 Block IIIA and IIIB missiles. Raytheon and the U.S. Navy are using the restart as an opportunity to modernize production and testing processes inside the SM-2 factory.

About the Standard Missile-2
SM-2s are the world's premier fleet-area air defense weapons. The missiles are also capable of providing extended-area air defense.
» SM-2's international customers include: Australia, Canada, Germany, Japan, Korea, the Netherlands, Spain and Taiwan.
» SM-2 has been integrated with both Aegis and non-Aegis combat weapon systems.
» The missile can be launched from the MK-41, MK-13 and MK-26 launchers.
» SM-2 has an extensive flight test history of more than 2,500 successful flight tests
» More than 5,000 SM-2s have been delivered to the US and allied customers.