a
Naval Forces News - China
China's 24th Type 054A Frigate Commissioned with PLAN South Sea Fleet

The People's Liberation Army Navy (PLAN or Chinese Navy) commissioned its 24th Type 054A Frigate (Jiangkai II-class) "Xuchang" (hull number 536). The Commissioning ceremony took place on June 23rd at Zhanjiang naval base, headquarter of the PLAN South Sea Fleet. The frigate joins the PLAN East Sea Fleet.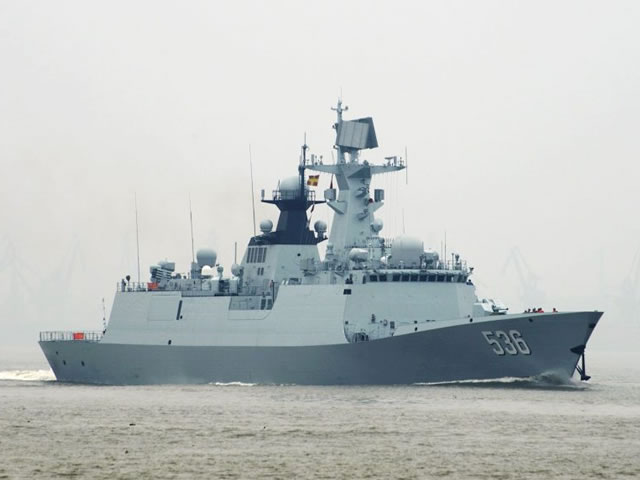 Type 054A Frigate "Xuchang"
Type 054A Frigate
Based on the Type 054 Frigates, the Type 054A incorporated a larger number of more-advanced indigenous systems. The first of class entered service with the PLAN in January 2008.

Type 054A Frigates are fitted with 32 VLS (Vertical Launch System) cells for HQ-16 surface to air missiles, 8x YJ-83 (export designation C-803) anti-ship missiles, a H/PJ-26 76mm main gun, two H/PJ12 seven-barreled 30mm CIWS guns (for frigates 1 to 16 in the series) or H/PJ11 eleven-barreled 30mm CIWS for new vessels starting with Huanggang (hull number 577) the seventeenth ship of the class. Two triple YU-7 torpedo launchers and anti-submarine rocket launchers are fitted for ASW warfare.



"Xuchang" (hull number 536)

was built by CSSC Guangzhou Huangpu Shipbuilding, launched in June 2016. It is the 12th frigate of the class built in Guangzhou and the first one to be commissioned this year.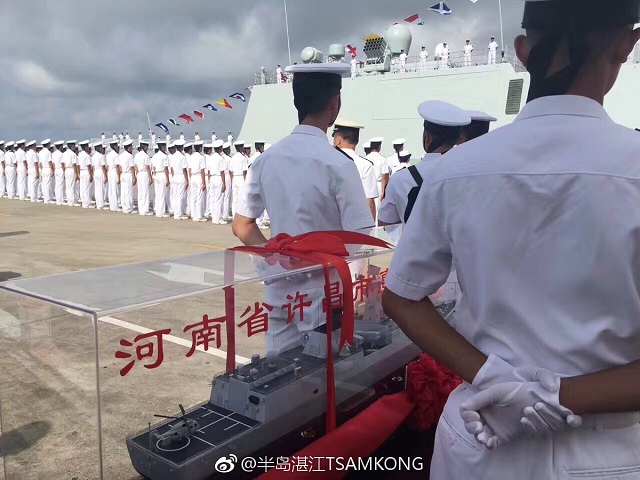 Type 054A Frigate "Xuchang" during the commissioning ceremony
Since first ship of the class was commissioned in January 2008, the PLAN commissioned 24 Type 054A multi-mission frigates in just 9 years.

Today, at least three more vessel of the class are at various stages of construction. The new Type 054B class (fitted with a full electric propulsion system) is set to follow on.

Xuchang is said to be feature some improvements compared to early Type 054A frigates: Among them, an improved, more integrated datalink system to replace the older H/TJN-905 datalink, a joint PLA datalink (JIDS), new communication and multi-spectral electronic warfare suites... While early frigates of the class are fitted with H/PJ-12
seven-barreled 30mm CIWS
, Xuchang is fitted with the newer
H/PJ11 eleven-barreled 30mm CIWS
. All these changes in less than 10 years illustrate the rapid progress made in many areas by the Chinese naval defense industry.

This 24th Type 054A Frigate is the 8th vessel to be commissioned by the PLAN this year:
January 2017: Type 815A SIGINT vessel Kaiyangxing (856), Type 056A ASW Corvette Ezhou (513), Type 052D Destroyer Xining (117), Type 744A Logistics vessel Dong Biao (265)
February 2017: Type 927 Traning vessel Qi Jiguang (83)
March 2017: Type 056A ASW Corvette Liupanshui (514)

For the second half of 2017, commissioning of additional Type 056 and Type 056A corvettes is to be expected. Two more Type 052D destroyers and the first Type 901 50,000 tons supply vessel are expected to be commissioned as well.

With information and pictures from our colleagues at Eastpendulum