a
Naval Forces News - Germany
Five More K130 Braunschweig-class Corvettes for the German Navy
Germany approved the procurement of five additional
Braunschweig class (K-130) corvettes
by 2023. This new procurement, worth about 1 Billion Euros is to answer new NATO requirements: NATO expects the German Navy (Marine) to provide a total of four corvettes at the highest readiness level for use in littoral operations from 2018. With the current five K130 class corvettes, the Marine can only provide two vessels.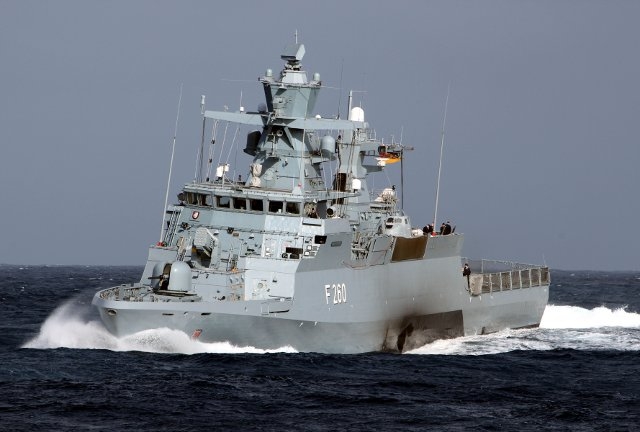 German Navy Braunschweig class corvettes (K130)
"The Bundestag has cleared the way for the German Navy to receive the urgently needed five K130 corvettes as quickly as possible. This proven and modern ship class will be available to us earlier than any new development could be, which is important to the essential growth of the German Navy" said Vice Admiral Andreas Krause, the Chief of German Naval Staff.

This will be a direct procurement with likely few differences between the first, existing, batch and this second batch. The reason being the newly built vessels need to be available as soon as possible. It is not clear yet which shipyard(s) will build the second batch. The existing corvettes were built by TKMS and Lürssen. During a recent naval defence event in Bremmen, Germany (UDT 2017) two German defence industry sources told Navy Recognition that they didn't expect the new batch of 5 corvettes to be significantly different compared to the baseline configuration K130.
The existing K130 corvettes are equipped with Thales TACTICOS combat management system, Thales Mirador optronics sensors, a TRS-3D multifunction radar, two navigation radars and the UL 5000 K ESM/ECM suite. Their weapons include four launching tubes for Saab RBS-15 anti-ship missiles, two 21-cell RAM systems, an Oto Melara 76/62 gun and two Rheinmetall MLG 27 guns.

Link to K130 Braunschweig Class Corvette technical datasheet