a
Naval Industry News - Russia
Shipyard in North Russia to lay down Project 885M attack submarine Ulyanovsk in late July
The Sevmash Shipyard in Severodvinsk in north Russia will lay down the advanced Project 885M Yasen-M class nuclear-powered attack submarine Ulyanovsk on July 28, 2017, the Defense Ministry's press office said.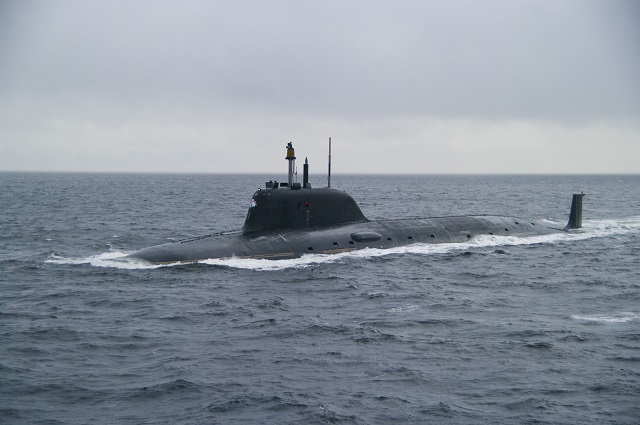 Russian Navy First Project 885 Yasen-class Submarine Severodvinsk (K-560) underway
"The fourth-generation Yasen-M class nuclear-powered submarine that will be the sixth in the series is planned to be laid down by the Sevmash Shipyard in Severodvinsk on July 28, 2017," Russian Navy Deputy Commander-in-Chief for Armament Vice-Admiral Viktor Bursuk said.

"The submarine has been designated as Ulyanovsk on order of the Russian Navy's commander-in-chief," he added.

The submarine will have improved radioelectronic weapons and upgraded equipment and materials manufactured by Russian companies of the co-operative involved in the Project 885M submarine construction.

"The improved Yasen-M class submarine will have an absolutely new hull," Bursuk said.

The Project 885 Yasen class lead submarine Severodvinsk operates within the Russian Northern Fleet's submarine forces. The submarines Novosibirsk, Krasnoyarsk, Arkhangelsk and Perm are currently at different construction stages. In March, the Project 885M submarine Kazan was floated out to undergo all required stages of its builders trials.

© Copyright 2017 TASS. All rights reserved. This material may not be published, broadcast, rewritten or redistributed.

About Project 885M
Not much is known about the modifications or improvements on Project 885M, but deputy general director of the Malakhit Design Bureau was quoted saying that Kazan will be quieter and have improved sensors and weapon systems compared to Severodvinsk. The Russian Navy recently told Russian media that the Kazan is a Project 885M derivative of the Project 885 baseline model, from which it differs in more sophisticated radio electronics and means of automation that allowed its hull to be truncated by 10 m (the crew accommodation by 4 m).