a
Naval Industry News - USA

HII Awarded Contract to Build First Flight III Burke-class Destroyer Jack H. Lucas DDG 125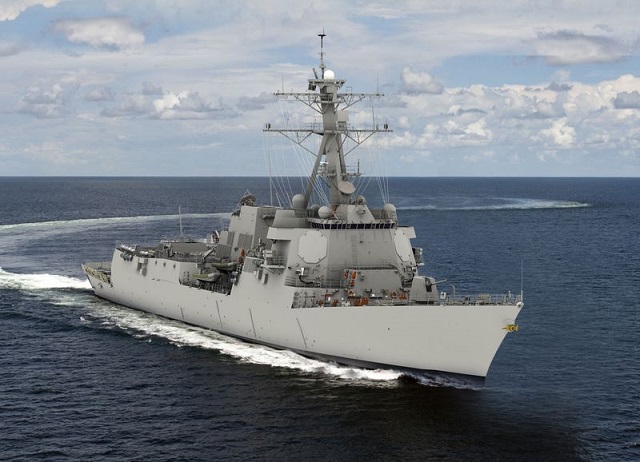 HII's Ingalls Shipbuilding division will build Jack H. Lucas (DDG 125), the first "Flight III" ship in the U.S. Navy's Arleigh Burke class of destroyers. HII rendering
"We have proven our success in the DDG 51 class over the past 30 years, and our shipbuilders are ready now to build the first Flight III ship," Ingalls Shipbuilding President Brian Cuccias said. "This will be the 35th Aegis destroyer we will build for the U.S. Navy in what has been one of our company's most successful programs. These ships are in high demand, and this Flight III ship will be the most capable DDG 51-class ship ever built."

The value of the flight upgrade modification is withheld due to business sensitivities.

DDG 51 Flight III will incorporate the new Advanced Missile Defense Radar (AMDR) that will replace the existing SPY-1 radar installed on the previous DDG 51 ships. To support the new Flight III systems, the installed power and cooling will be increased accordingly.

DDG 125 is the first ship named for Capt. Jack H. Lucas, who, at the age of 14, forged his mother's signature to join the U.S. Marine Corps Reserves during World War II. Lucas, then a private first class in the Marine Corps, turned 17 just five days before the U.S. invasion of Iwo Jima and stowed away on USS Deuel (APA 160) to fight in the campaign. During a close firefight with Japanese forces, Lucas saved the lives of three fellow Marines when, after two enemy hand-grenades were thrown into a U.S. trench, he placed himself on one grenade while simultaneously pulling the other under his body. One of the grenades did not explode; the other exploded but only injured Lucas.

Lucas is the youngest Marine and the youngest service member in World War II to receive the Medal of Honor.
Our video coverage on DDG 51 Flight III during SNA 2017

The five-ship destroyer contract, part of a multi-year procurement in the DDG 51 program, allows Ingalls to build ships more efficiently and creates greater strength and stability in the important supplier base.

Ingalls has delivered 29 Arleigh Burke-class destroyers to the Navy, with the newest ship, John Finn (DDG 113), scheduled to be commissioned on July 15 in Pearl Harbor, Hawaii. Destroyers currently under construction at Ingalls are Ralph Johnson (DDG 114), Paul Ignatius (DDG 117), Delbert D. Black (DDG 119), Frank E. Petersen Jr. (DDG 121) and Lenah H. Sutcliffe Higbee (DDG 123).

Arleigh Burke-class destroyers are highly capable, multi-mission ships that can conduct a variety of operations, from peacetime presence and crisis management to sea control and power projection, all in support of the United States' military strategy. DDGs are capable of simultaneously fighting air, surface and subsurface battles. The ship contains myriad offensive and defensive weapons designed to support maritime defense needs well into the 21st century.