a
Naval Forces News - Russia
Handover of Six Project 636.6 Submarines to Russian Navy Pacific Fleet Postponed till 2022
The handover of the series of six diesel-electric submarines of project 636.3 to the Pacific fleet will be postponed to 2022, Director General of the Admiralty Shipyard Alexander Buzakov said at the VIII International naval show in St. Petersburg.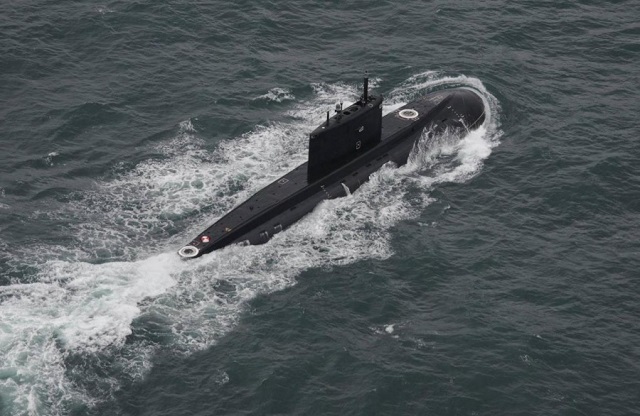 Russia's new Project 636.3 (Varshavyanka) diesel-electric submarine (SSK) "B-261 Novorossiysk" transiting in Belgium's EEZ. File Picture: Belgian Navy
"Now we can do it in 2022," he responded to a question about the completion of the construction of the submarines for the Pacific fleet.

The construction of the first six submarines for the Black Sea fleet began in 2010. The construction of the second series of six boats for the Pacific fleet is to begin in 2017. The first two submarines will be called the Volkhov and the Petropavlovsk-Kamchatsky. Buzakov earlier said two submarines had to be commissioned in 2019, two in 2020 and another two in 2021.

The diesel-electric submarines of project 636.3 (Improved Kilo by NATO classification) are third-generation boats and a further development of diesel-electric submarines of project 636. They enjoy high acoustic stealth characteristics. Underwater speed is 20 knots, autonomous navigation range is 45 days, the crew is over 50 men. Underwater displacement is close to 4 thousand tons. Project 636.3 submarines are armed with high-precision Kalibr missiles for fire at surface (anti-ship 3M-54 and 3M-541 missiles) and ground targets (cruise missiles 3M-14) and have upgraded radio-electronic equipment.
© Copyright 2017 TASS. All rights reserved. This material may not be published, broadcast, rewritten or redistributed.