a
Naval Forces News - Russia
Russian Navy: Admiral Kuznetsov aircraft carrier repairs to begin in 2018
The repairs of the Admiral Kuznetsov aircraft carrier of project 11435 will begin in 2018 and the costs have not been determined yet, Russian Navy Deputy Commander for armaments Vice Admiral Viktor Bursuk said at the naval show in St. Petersburg.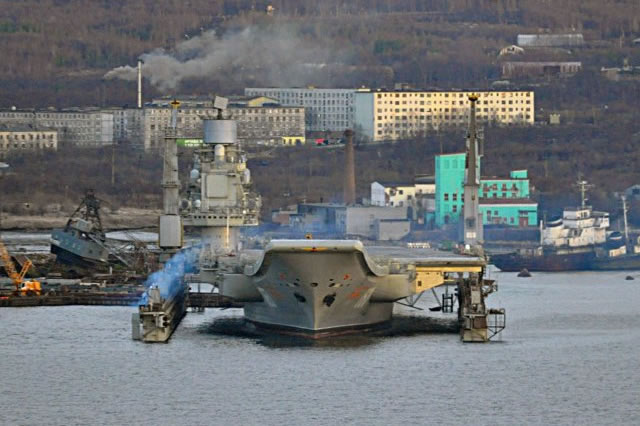 Russian Navy Aircraft Carrier Admiral Kuznetsov inside the dock in Severomorsk/Murmansk in 2015. Picture: Flotprom.ru
"(The modernization) will begin next year at enterprises located in the zone of responsibility of the Northern fleet. It will definitely be a shipyard of the United Shipbuilding Corporation. The costs are being calculated and will be determined a little bit later," he said.

The Admiral Kuznetsov aircraft carrier of project 11435 is designated to win supremacy at sea and in the air to promote sustainability of the naval forces, strike at adversary positions, and support landing operations. The warship became operational in 1990. Its full displacement is 58 thousand tons and the length is 304.5 meters. Full speed power is 200000HP and the speed is close to 30 knots. Besides an air wing of 24-26 aircraft and 12 helicopters, the Admiral Kuznetsov is armed with anti-ship and anti-aircraft missiles. It has a skijump and 2 aircraft elevators to facilitate the operations of the aviation. The crew of the carrier comprises 1300 men and the personnel of the air wing is 660 people.
© Copyright 2017 TASS. All rights reserved. This material may not be published, broadcast, rewritten or redistributed.