a
UDT 2017 Show News - DCNS

UDT 2017: DCNS Showcasing its F21, MU90 Torpedoes and CANTO Decoy
DCNS is exhibiting at the Undersea Defence Technology (UDT) Conference in Bremen, Germany. The French company is showcasing the F21 heavyweight torpedo, the MU90 lightweight torpedo and its CANTO torpedo countermeasures.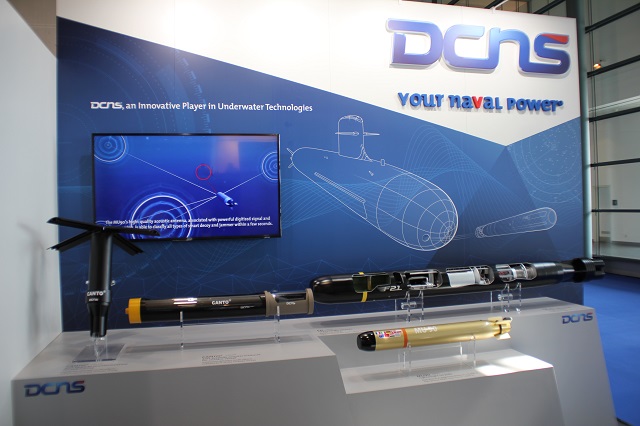 From left to right: CANTO, MU90 and F21 on DCNS stand at UDT 2017
Using state-of-the-art technology, the F21 features exceptional performances, fulfilling all the stringent French Navy requirements: advanced self-guided mode, shallow and confined water capability, latest generation of countermeasures resistance and compliance with nuclear submarines safety norms. Thanks to its intelligence, range and fire power, it offers navies an unrivalled tactical advantage by increasing the spectrum of operational scenarios. The F21 will equip the future French SSBNs (SNLE 3G) and SSNs (Baracuda), as well as the Brazilian Scorpène SSKs. The F21 is also launchable from surface ships.

Navy Recognition learned during UDT 2017 that DCNS is continuing the sea qualifications of the F21 aboard French Navy Rubis-class SSNs and it will be ready for the delivery of Suffren, the first Baracuda class SSN of the French Navy. The torpedo is capable of speeds in excess of 50 knots, has a range of over 50 Km and an autonomy of about 1 hour.
Video: F21 heavyweight torpedo, MU90 lightweight torpedo and CANTO torpedo countermeasure at UDT 2017
MU90 is the latest generation light weight torpedo that can be deployed from any naval or air platform. The MU90 is able to counter any kind of conventional or nuclear submarine. Produced in more than 1000 units, the MU90 is arming the French, Italian, German, Danish Polish and Australian navies.

CANTO represents a breakthrough in the field of torpedo defence. It is designed to protect any platform, submarine or surface, against the most advanced torpedoes and the previous generation of torpedoes as well. CANTO is ordered by the French Navy to protect its SSN and SSBN and by the Brazilian Navy to protect the new SSK fleet. Unlike the classical decoys aiming at seducing the attacking torpedo by recognizing its acoustic signal and reproducing one false target, CANTO is based on dilution/confusion principle. CANTO countermeasure acts completely independently of the torpedo threats thus offering a protection against numerous simultaneous torpedo attacks even in case of unknown torpedo threats.