a
Naval Forces News - Russia
Sea Trials of Russia's Third Project 11356 Frigate Admiral Makarov Completed
The main official sea trials program for the Project 11356 frigate Admiral Makarov is completed, but the timeframe for handing over the ship to the Russian Navy has not yet been determined, Baltic Yantar Shipyard spokesman Sergey Mikhailov told TASS.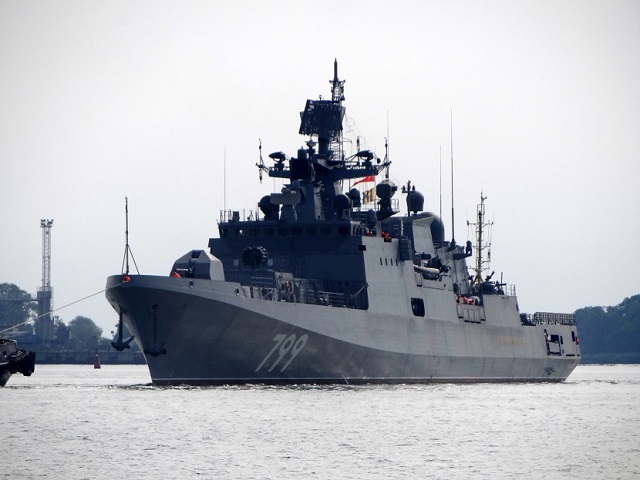 Admiral Makarov is t
he third Admiral Grigorovich class Frigate of the Russian Navy. Picture: Drakon 64 / forums.airbase.ru
"The main official trials program for the frigate Admiral Makarov has been completed. The timeframe for handing over the ship to the Navy will be determined by agreement with customer, the Russian Ministry of Defense," he said.

In an interview with the shipyard's newspaper Vpered! (Go Ahead!), Sergei Illarionov, head of the armament and military equipment bureau at Yantar's Office, noted that "the main objectives of the final part of the official trials were to complete work with the Shtil SAM system, address the state commission's comments on the main power plant and to carry out repeat testing of the surface search radar."

Despite the fact that "weather conditions made adjustments to the time of testing, the fleet introduction team and the ship's crew showed a good result," successfully firing the Shtil system," Illarionov stressed.

"There was a lot of work, the shipyard has coped excellently with all tasks," he stated.

The frigate Admiral Makarov was laid down at Yantar Shipyard on February 29, 2012, launched on September 2, 2015. This is the third ship in a series of the Project 11356 frigates built for the Black Sea Fleet. The first two ships of the series, Admiral Grigorovich and Admiral Essen, were handed over to the Russian Navy on March 11 and June 7, 2016, respectively. -



© Copyright 2017 TASS. All rights reserved. This material may not be published, broadcast, rewritten or redistributed.




Navy Recognition comment: The vessel was originaly expected to be delivered in June, according to previous reports