a
Naval Forces News - France
French Navy Guyana-based Light Patrol Vessel PLG La Résolue is Now on Active Duty
The French Navy (Marine Nationale) announced that "La Résolue" PLG (Patrouilleur Léger Guyanais or French Guyana-based Light Patrol Vessel) is now on "Active Duty" and able to conduct operational missions. Its sister ship "La Confiance" entered active duty in May.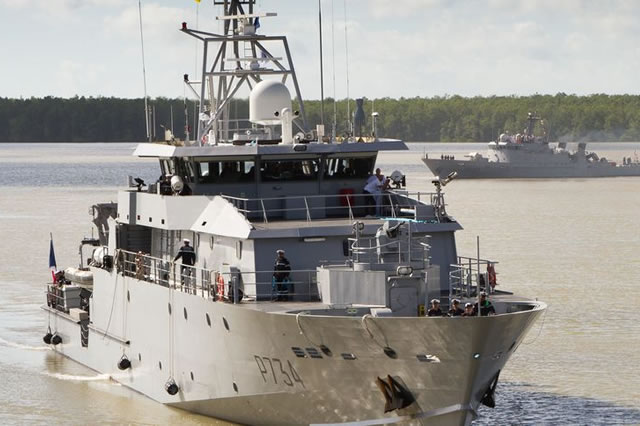 French Navy PLG light patrol vessel La Résolue in French Guyana. French Navy picture.
As part of the "Horizon Marine 2025" modernization plan of the French Navy, the two PLG are replacing, from 2017, the existing P400 patrol vessels based in Guyana: La Capricieuse and La Gracieuse. This new class of vessels is designed for the environmental, nautical and operational peculiarities of the Guyanese theater and more generally of the Caribbean zone. With excellent sea keaping on the high seas as well as in the shallow waters of the Guyanese territories, they have means of force projection and coercion.

As we were reporting recently, the French Navy is set to receive a third PLG to be deployed in the Antilles.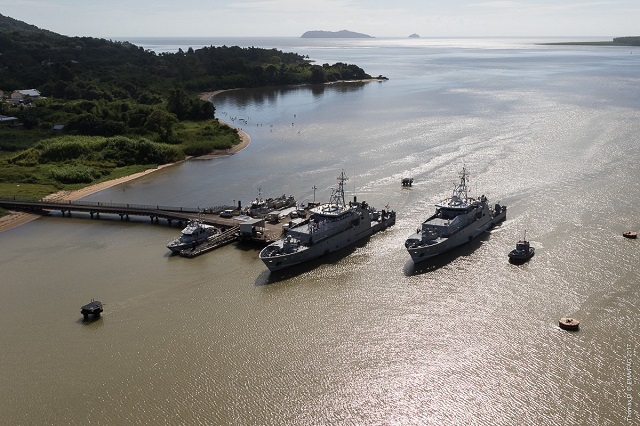 French Navy PLG light patrol vessel La Résolue with its sister ship La Confiance in French Guyana. French Navy picture
These ships are dedicated to sovereignty missions and to protect French interests in the Antilles (French West Indies) and Guiana maritime area. One of the missions for the two PLGs will be securing the waters around the Guiana Space Center where the European Space Agency (ESA), the French space agency CNES (National Centre for Space Studies), and the commercial Arianespace company conduct regular launches from Kourou. Other missions will include the fight against illicit trafficking (fisheries police, narcotics trafficking), the protection of life and property at sea and fight against pollution.

The PLGs are able to accomodate 14 people (special forces for example) in addition to 24 crew members. With a length of 60 m and a width of 9.50 m, a draft less than 3.2 meters, the vessel are able to operate in shallow waters including the Kourou river. The patrol vessels can reach speeds of 21 knots with an endurance of 12 days at 12 knots.

Contacted by Navy Recognition in 2015, a DGA official gave the following additional details:
» PLG have two shaft lines, the propelling power will be about 6 MW, capable of crossing at least 3500 NM at 12 knots.
» The weapon stations for secondary weapons will be able to receive a choice of small caliber machine guns of 12.7 mm or 7.62 mm. PLG is also equipped with water cannon. (A Nexter Narwhal 20mm RWS is fitted at the bow).
» The two on-board RHIBs will be identical. They will have an aluminum hull and a length of about eight meters.
» PLG will have several sensor systems (radars, projectors, optronic system) enabling it to intervene at any time, day or night.