a
Naval Industry News - Canada
HMCS Halifax returns to service after successful docking work period at Halifax Shipyard
To the applause of the workforce at Halifax Shipyard, the Ship's Company of Her Majesty's Canadian Ship (HMCS) Halifax eagerly marched to Halifax Shipyard today to accept their frigate following her successful docking work period (DWP). HMCS Halifax entered the graving dock at Halifax Shipyard on October 20, 2016, for a DWP that included routine maintenance and upgrades to ensure the longevity of the vessel.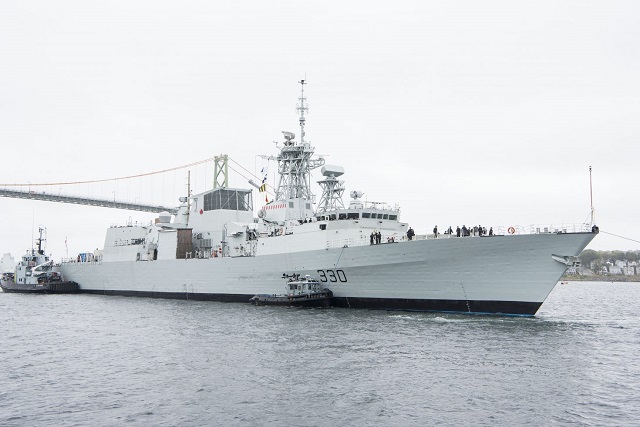 HMCS Halifax. Irving Shipbuilding picture.
More than 530 of the Halifax Shipyard's 1,500 employees worked on HMCS Halifax DWP. This includes 440 apprentice and journeyperson crane operators, electricians, engine fitters, ironworkers, joiners/stagers, labourers, material handlers, pipefitters, riggers, and welders, who are members of Unifor Local 1.

HMCS Halifax DWP at Halifax Shipyard resulted in over $30 million in spending with more than 60 suppliers. Forty-eight Nova Scotia-based suppliers worked with Halifax Shipyard on the Halifax DWP, including Maritime Pressure Works, MacKinnon & Olding, CMS Steel Pro, and Gil-Son Construction, among others.

HMCS Halifax was the first of the Royal Canadian Navy's seven east coast Halifax-class frigates to complete a mid-life overhaul at the Halifax Shipyard as part of the Government of Canada's Halifax-class Modernization program. HMCS Halifax's mid-life overhaul took place at Halifax Shipyard from 2010 to 2012.

All seven frigates overhauled at the Halifax Shipyard between 2010 and 2016 – Halifax, Fredericton, Montreal, Charlottetown, St. John's, Ville de Quebec, and Toronto – were completed on schedule and under budget.

The mid-life modernization included a new Combat Management System, new radar capability, a new electronic warfare system, upgraded communications and missiles, as well as a new Integrated Platform Management System.