a
Naval Forces News - Russia
Overhaul and in-depth Upgrade of Russian Cruiser Admiral Nakhimov is on Schedule
Overhaul and a major upgrade of the Project 11442 heavy nuclear-powered cruiser Admiral Nakhimov to the Project 11442M configuration will be completed by 2021, Rear Admiral Igor Zvarych, head of the Russian Navy's Technical Department, said following a working meeting on repair and servicing of the Navy ships, chaired by Russian Navy Commander-in-Chief, Admiral Vladimir Korolev.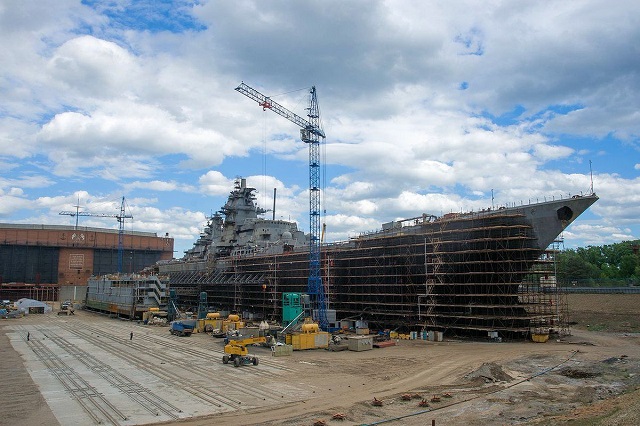 Project 11442 heavy nuclear-powered cruiser Admiral Nakhimov is being upgraded to the Project 11442M configuration. Russian MoD picture.
According to Zvarych, Sevmash is repairing and upgrading the Admiral Nakhimov in accordance with a state contract strictly on schedule. Reports on each stage of the schedule and the scope of upgrade work done are regularly submitted to Navy Commander-in-Chief Korolev.

According to the contract, overhaul and upgrade works on the cruiser are carried out by the Sevmash shipbuilding enterprise, Severodvinsk. Currently, the foundations for new equipment systems has already been formed and installed, repair and renewal of life support systems and cable laying are underway.

Once retrofitted, the cruiser will feature all new performance characteristics and will significantly enhance the Russian Navy's surface force capabilities.

Earlier it was reported that the bulk of the Severnoye Design Bureau's activities in 2016 involved the development of detailed design and working documentation for retrofitting the Project 11442 cruiser Admiral Nakhimov. By the end of the year, they were by 60.2 and 52.3 percent complete, respectively. Also, the Bureau provided technical support for this project. The level of technical readiness for this item by the end of 2016 was 12%.

The Project 11442 heavy nuclear missile cruiser Admiral Nakhimov is designed to destroy value surface targets, launch strikes against coastal targets, and provide air defense for a cruising formation. The ship was launched in 1986 and commissioned into the Navy in 1988. Since 1999, the cruiser had been at Sevmash's mooring quay in Severodvinsk. In 2012, a decision was made to rebuild the ship. An overhaul and retrofit contract was signed in 2013. In the course of retrofit, the Admiral Nakhimov will gain the capability to employ the Kalibr strike missile system. The ship has a displacement of 24,500 tons, a length of 251 m, a full power of 140,000 hp, a speed of 31 knots and a crew of 728. A Ka-27 helicopter or its versions can be deployed aboard the ship.



© Copyright 2017 TASS. All rights reserved. This material may not be published, broadcast, rewritten or redistributed.