---
The U.S. Navy held a keel laying and authentication ceremony for the future USS Minneapolis-Saint Paul (LCS 21) in Marinette, Feb. 22.
---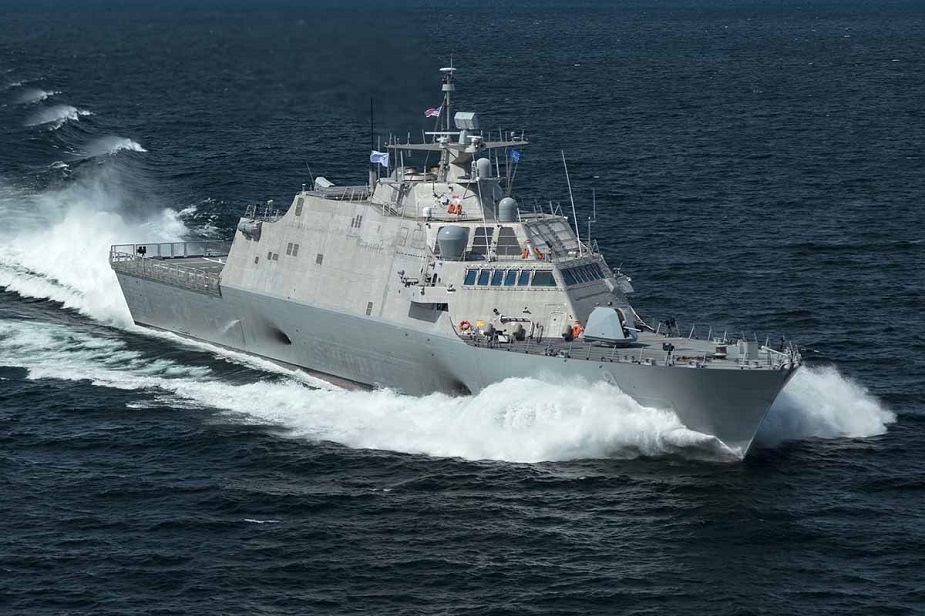 The future USS Minneapolis-Saint Paul (LCS 21) will be the 11th Freedom-class LCS. LCS 9 pictured here.

---
The initials of the ship's sponsor, Jodi Greene, were welded onto a keel plate that will be permanently affixed to the ship. While the keel laying has traditionally represented the formal start of a ship's construction, advanced modular shipbuilding allows fabrication of the ship to begin months in advance. Today, the keel laying continues to symbolically recognize the joining of the ship's components and the ceremonial beginning of the ship.
"The Twin Cities of Minneapolis and Saint Paul have a strong bond with the Navy. This littoral combat ship (LCS) will be the second ship to bear the cities' name and will reaffirm that bond," said Capt. Mike Taylor, LCS program manager. "We are honored to lay the keel of a ship which will protect our freedom and keep us safe as our Sailors operate her on the world's seas."
The ship is being built by an industry team led by Lockheed Martin at Fincantieri Marinette Marine Corporation in Marinette. The future USS Minneapolis-Saint Paul will be approximately 388 feet in length and have a width of nearly 58 feet.
LCS is a modular, reconfigurable ship designed to meet validated fleet requirements for surface warfare, anti-submarine warfare, and mine countermeasures missions in the littoral region. An interchangeable mission package is embarked on each LCS and provides the primary mission systems in one of these warfare areas. Using an open architecture design, modular weapons, sensor systems and a variety of manned and unmanned vehicles to gain, sustain and exploit littoral maritime supremacy, LCS provides U.S. joint forces access to critical theaters.
---