---
The large amphibious assault ship Ivan Gren has been accepted for service by Russia's Navy, a TASS correspondent reported from the scene. The St. Andrew's flag was raised onboard the ship, the correspondent added.
---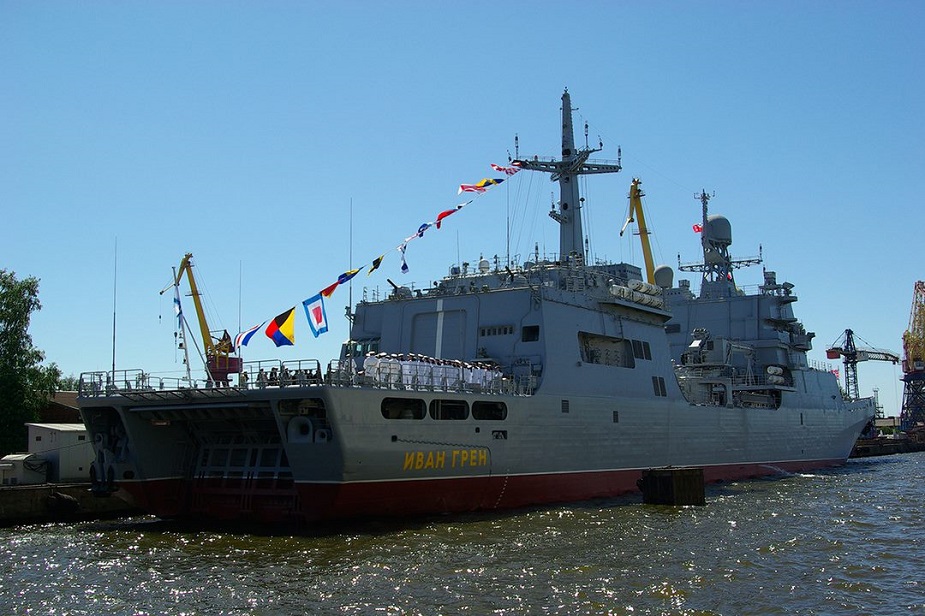 The commissioning ceremony of the "Ivan Gren" LPD (project 11711) in Kaliningrad, June 20, 2013. Picture: Russian Ministry of Defense
---
The vessel Ivan Gren is the first amphibious assault ship designed and built in Russia's modern history. It is the Project 11711 lead ship developed by the Nevskoye Design Bureau in St. Petersburg in northwest Russia. The construction of the ship lasted more than 20 years because of various modifications introduced by the Navy.

After an order of the Russian Navy's commander-in-chief was read out to assign the ship to the Kola Flotilla's 121st brigade, Navy Deputy Commander-in-Chief for Armament Vice-Admiral Viktor Bursuk handed over the St. Andrew's flag to ship captain Viktor Vasilyev.

The ship Ivan Gren was laid down by the Yantar Shipyard in Kaliningrad in west Russia in December 2004 and launched in May 2012. Its shipbuilders sea trials started in 2016. The state acceptance report was signed on June 2.
---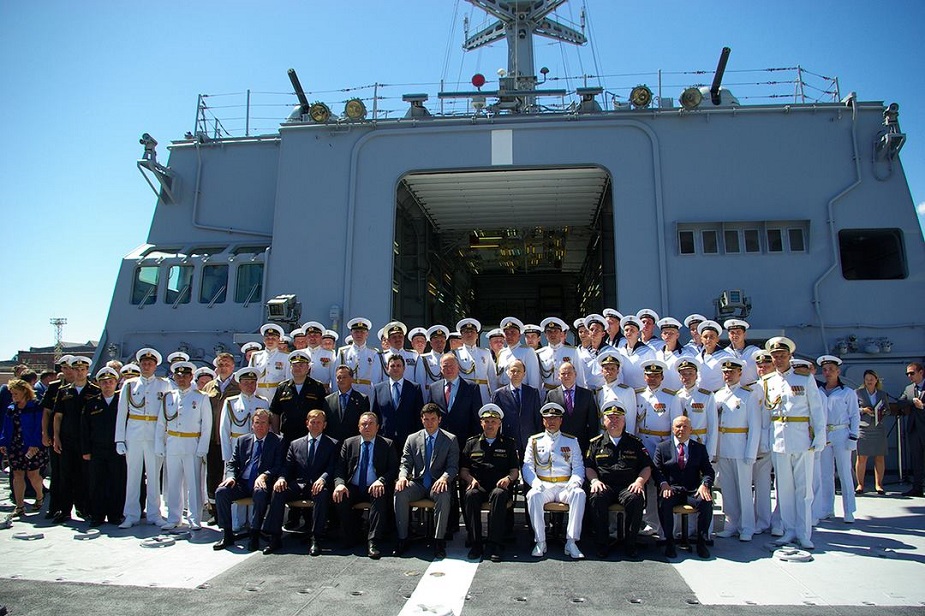 The commissioning ceremony of the "Ivan Gren" LPD (project 11711) in Kaliningrad, June 20, 2013. Picture: Russian Ministry of Defense
---
The shipyard is currently building the second Project 11711 ship Pyotr Morgunov laid down in June 2015 and launched on May 25, 2018.

The Project 11711 large amphibious assault ship is designed to land Marines to coastal areas seized by the enemy and transport military hardware and equipment. The ship can be also used to carry out humanitarian operations. The ro-ro ship provides unimpeded stern-to-bow passage of armored and wheeled vehicles on the tank deck. The ship has a twin-island superstructure, with the stern island housing a hangar designed for a helicopter. Owing to a sliding device, the hangar's length can be increased to accommodate two helicopters, if need be. The hull and the superstructure are made of steel.

The ship can carry 13 tanks or 36 armored personnel carriers. It can transport from 300 to 380 Marines as well. Instead of Marines, it can carry 1,500 tons of cargo. The ship can carry from one to two Kamov Ka-29 (NATO reporting name: Helix-B) troop lift helicopters. It can accommodate a Ka-52K (Hokum-B) shipborne rotorcraft as well. The ship is armed with a 30mm AK-630M-2 Duet and two 30mm AK-630M small-caliber antiaircraft artillery systems.

The ship has a displacement of 5,000 tons, a length of 120 meters, a width of 16.5 meters, a speed of 18 knots and an endurance of 30 days. The ship's crew totals 100.
---
© Copyright 2018 TASS. All rights reserved. This material may not be published, broadcast, rewritten or redistributed.
---