---
Severnaya verf shipyard in St. Petersburg held a ceremony to hand over the Ivan Khurs communications vessel to the Russian Navy, the shipyard said.
---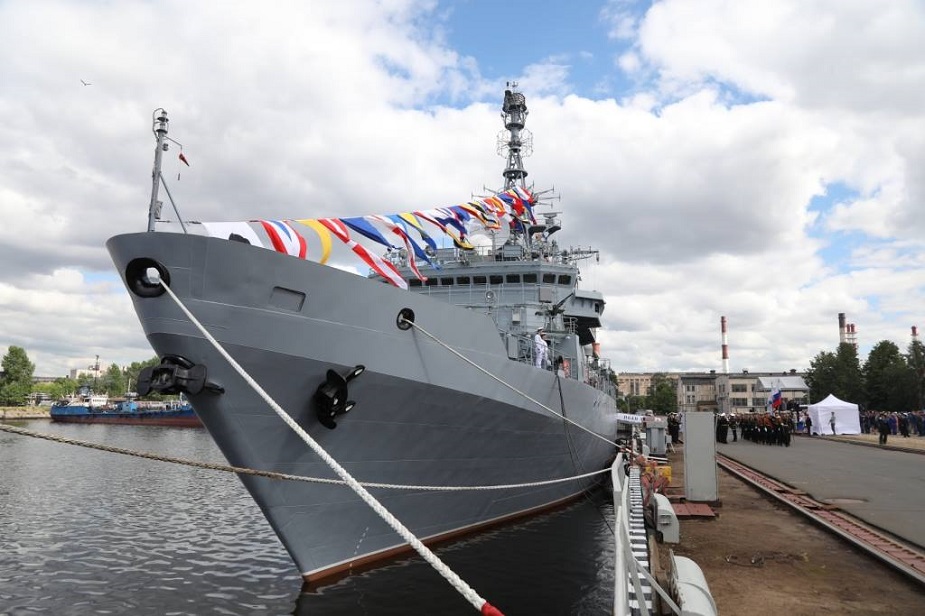 The Project 18280 communication vessel (medium reconnaissance ship) Ivan Khurs, built for the Russian Navy at PJSC Shipbuilding Plant Severnaya Verf, seen here during the commissioning ceremony. Russian Ministry of Defense picture.
---
"The Russian Navy flag was hoisted on the Ivan Khurs vessel of project 18280," it said.

It is the second vessel of project 18280. It was laid in the autumn of 2013. In mid-June acceptance trials were completed and the vessel returned to St. Petersburg.

The communication vessel (medium reconnaissance 2nd rank ship) of project 18280 is the biggest Russian ship of the class. Its full displacement is 4000 tons, the length is 95 meters and the width - 16 meters. Full speed is 16 knots and the range is 8 thousand miles. The crew comprises 131 men. The vessel can carry a light antiaircraft set of four pedestal-mounted KPVT 14.5mm machineguns and six portable Igla 9K38 launchers (SA-18 Grouse by NATO classification) with a set of 32 antiaircraft guided 9M39 missiles.
---
© Copyright 2018 TASS. All rights reserved. This material may not be published, broadcast, rewritten or redistributed.
---