---
R&D to create multirole Husky-class fifth-generation submarine is to begin in 2019, according to the annual statement of Malakhit Design Bureau in St. Petersburg.
---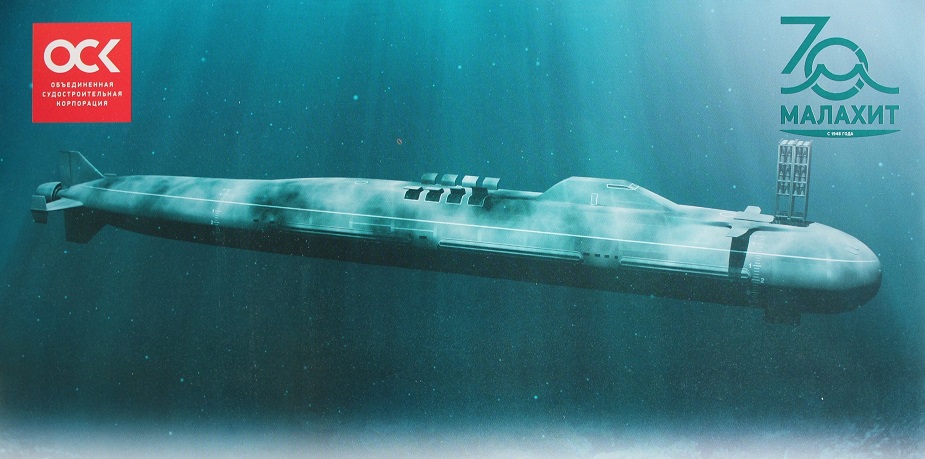 In April 2018, a concept of the USC submarine emerged on the occasion of the Malakhit bureau's 70th anniversary. This concept features, in the nose portion, a module with Kalibr or similar missiles along with eight mounting seats for modules in the central part. On the sides are hydroacoustic system antennas. A jet propeller serves as a propulsive unit.
---
"R&D to create multirole Husky-class fifth-generation submarine envisaged by the arms program for 2018-2027 is to begin in 2019," it said.

In 2017 Malakhit designed the technical concept of the prospective multirole nuclear submarine. The work included design of a new-generation sub in the framework of defense procurement order for 2016-2018. Total investments comprise 584.2 mln rubles and are allocated from the net profit of the bureau," the statement said.

In 2017 technical solutions were provided for prospective multirole nuclear submarines and several options of the technical concept offered. In 2018 the bureau will specify the preliminary design after Navy experts study the proposals.

Learn more about the Husky submarine at this link
---
© Copyright 2018 TASS. All rights reserved. This material may not be published, broadcast, rewritten or redistributed.
---