---
Sevmash Shipyard continues to overhaul the heavy nuclear Marshal Nakhimov cruiser of project 11442M. A major volume of hull work has been done and the shaft line is prepared for installation, the shipyard said.
---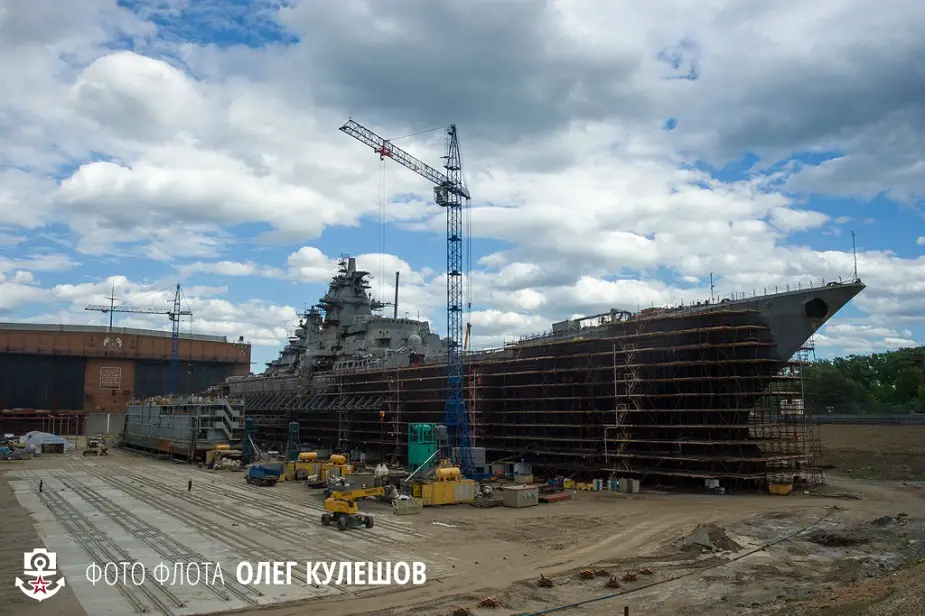 Project 11442 heavy nuclear-powered cruiser Admiral Nakhimov is being upgraded to the Project 11442M configuration. 2017 picture.
---
"3D technologies are used in the installation and alignment of the shaft line. The adjusting block has been overhauled and installed which is the main load element during shaft rotation," it said. Chief inspector Vladimir Pavlov said the hull is prepared for the assembly of mechanisms and units. Equipment and insulation are installed in bow compartments. The ventilation system is assembled according to the 3D model designed by Severnoe Bureau.
Metalwork is in full swing to brace the warship. In 2018 the first two areas have to be ready for electric assembly and cable bracing will begin. The main painting of the cruiser is scheduled in the summer of 2019 but Sevmash paining and insulation shop has already begun the initial work. The shipyard has to float the warship from the pool in 2020.
The Admiral Nakhimov heavy nuclear cruiser of project 1144 is designed to destroy sea targets, strike at coastal objects, ensure air defense of a navy formation. It was floated in 1986 and became operational in 1988. It has been berthed at Sevmash since 1999. The decision to restore the warship was made in 2012. An overhaul contract was signed in 2013. The Admiral Nakhimov will be able to fire Kalibr missiles. The displacement is 24500 tons, the length is 251 meters. Full speed power is 140000 HP, the speed is 31 knots. The crew comprises 728 men. The cruiser can carry a Ka-27 helicopter or its modifications.
To learn more about the Project 11442 heavy nuclear-powered cruiser Admiral Nakhimov upgrade, follow this link

---
© Copyright 2018 TASS. All rights reserved. This material may not be published, broadcast, rewritten or redistributed.
---