---
The Petr Morgunov large landing ship of project 11711 is to be handed over to the Navy in 2019, the Yantar shipyard in Kaliningrad said.
---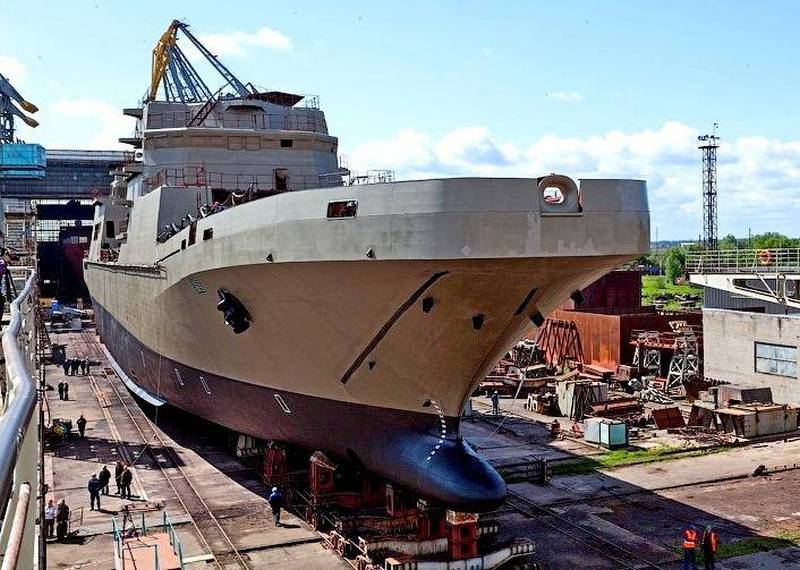 The Petr Morgunov of project 11711 was laid by Yantar on June 11, 2015 and was launched in May this year. Photo via topwar.ru

---
"Upon agreement with the Defense Ministry the Petr Morgunov has to be commissioned in 2019," it said. "Certain elements" of the Petr Morgunov first serial warship had to be improved after the trials of the lead Ivan Gren ship of the series. "The work has been accomplished and the warship is prepared to receive power supplies and begin trials. Mooring tests are to begin by the end of the year and the crew has to board the ship in January 2019," it said.
The Red Star newspaper reported the Petr Morgunov would begin sea trials in the first half of 2019 and will be handed over to the Navy after them. The warship was laid in Kaliningrad on June 11, 2015 and floated in 2018.
Project 11711 big landing ships are designed for landing operations on hostile territory, hardware and equipment transportation. In peacetime they engage in humanitarian operations. The ro-ro ship has a bow to stern through passage for armor. It has a two-island superstructure and a hangar in the stern for one helicopter. The extendable construction makes the hangar fit for two helicopters. The hull and superstructure are made of steel. The ship can carry 13 tanks or 36 armored personnel carriers. The marine strength is 300-380 men. The ships can carry 1500 tons of cargo instead of the landing force. It can carry one-two Ka-29 helicopters or Ka-52K. Artillery arms include one 30mm AK-630M-2 Duet and two 30mm AK-630M. The displacement is 5000 tons, the length is 120 meters and the width - 16.5 meters. The speed is 18 knots, the cruising capacity is 30 days and the crew comprises a hundred men.
---
© Copyright 2018 TASS. All rights reserved. This material may not be published, broadcast, rewritten or redistributed.
---