---
The Brazilian Navy (Marinha do Brasil) Program Management Directorate (DGePM) has short-listed four designs for the Tamandaré-class Corvette program. Four European designs have been retained from nine bidders who originally answered the request for proposal (RFP).
---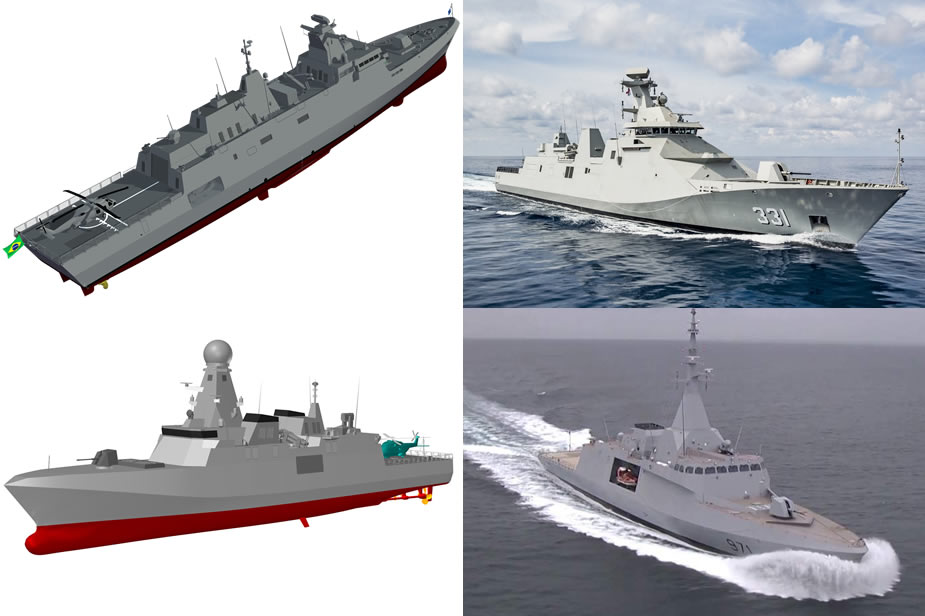 The four finalists for Tamandaré-class: TKMS Meko-class (top left) | Damen Sigma 10514 (top right) | Fincantieri corvette (bottom left) | Naval Group Gowind (bottom right).

---
The four down-selected teams are:
1 - "ÁGUAS AZUIS": EMBRAER and TKMS;
2 - "DAMEN-SAAB TAMANDARÉ";
3 - "FLV": Fincantieri Leonardo VARD;
4 - "VILLEGAGNON": Naval Group and Enseada.
The Brazilian Navy issued the RFP on 19 December 2017, expiring on 18 June 2018. Of 20 shipyards that had initially expressed interest in the RFP, only 9 submitted a proposal on 18 June. Among those 9, contenders that have not been retained include BAE Systems (Type 31e), two Indian shipbuilders (GOA Shipyard and GRSE), Turkey's STM and Ukraine's Ukrinmash.
German shipbuilder ThyssenKrupp Marine Systems has partnered with Brazil's Embraer and Ares Aerospacial e Defesa S.A. and are offering a design based on the MEKO-class corvette.
Netherlands' shipbuilder Damen Schelde Naval Shipbuilding and Sweden's Saab are patnering with Brazil's CONSUB Defesa e Tecnologia and is offering the Sigma 10514 design.
The Italian team consists of Fincantieri, Leonardo and Vard. They have partnered with Brazil's Ezute and are offering Fincantieri's latest corvette design (already selected by Qatar).
French shipbuilder Naval Group is partnering with Brazilian shipyard Enseada Industria Naval S.A. and Mectron S.A. They are offering the Gowind corvette (already selected by Egypt and Malaysia).
These are the main features of the new corvette as expessed by the Brazilian Navy requirements:
Total length 103.4 meters
Width 12.9 meters
Displacement at full load 2,790 tons
Autonomy 4,000 mIglia
Maximum speed 25 knots
---