---
The Admiral Kuznetsov aircraft carrier is getting ready for dockside repairs, Alexei Rakhmanov, the head of the United Shipbuilding Corporation, said.
---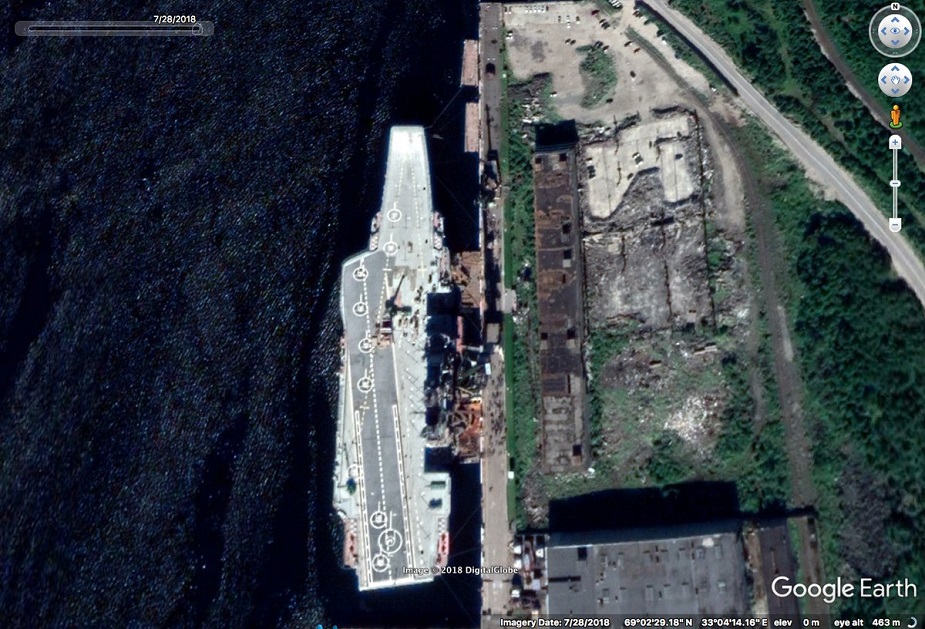 Screencpature from google earth

---
"All works on the 'Admiral Kuznetsov' are going strictly according to schedule. I control them every two weeks. We are at the stage of replacing the key mechanisms, disassembling and preparing some parts for modernization. The ship is also getting ready for dockside repairs. We are to take it to a dock in Murmansk soon for defects examination of the line shaft and of everything which is related to the mechanical part," Rakhmanov explained.
The shipbuilders signed a contract with the Russian Defense Ministry for repairing the Admiral Kuznetsov heavy aircraft carrier of project 11435 in April this year. The Zvyozdochka Ship Repair Yard , which will do the repairs, has said that the SRZ-35 plant in Murmansk where the Admiral Kuznetsov will undergo a major modernization overhaul has done all the necessary preparations and is ready to accept the ship.
The Admiral Kuznetsov aircraft carrier of project 11435 is designated to win supremacy at sea and in the air to promote sustainability of the naval forces, strike at adversary positions, and support landing operations. The warship became operational in 1990. Its full displacement is 58 thousand tons and the length is 304.5 meters. Full speed power is 200000HP and the speed is close to 30 knots. Besides an air wing of 24-26 aircraft and 12 helicopters, the Admiral Kuznetsov is armed with anti-ship and anti-aircraft missiles. It has a skijump and 2 aircraft elevators to facilitate the operations of the aviation. The crew of the carrier comprises 1300 men and the personnel of the air wing is 660 people.
---