---
Naval Group will showcase its Offshore Patrol Vessel (OPV) 90 at ADEX 2018. With the OPV 90, the Naval Forces of the Republic of Azerbaijan will acquire a comprehensive and reliable capability to fulfil a large spectrum of civilian and military missions, including maritime traffic control, protection of offshore resources, search and rescue, fisheries and marine environments, humanitarian assistance and fight against illegal trafficking.
---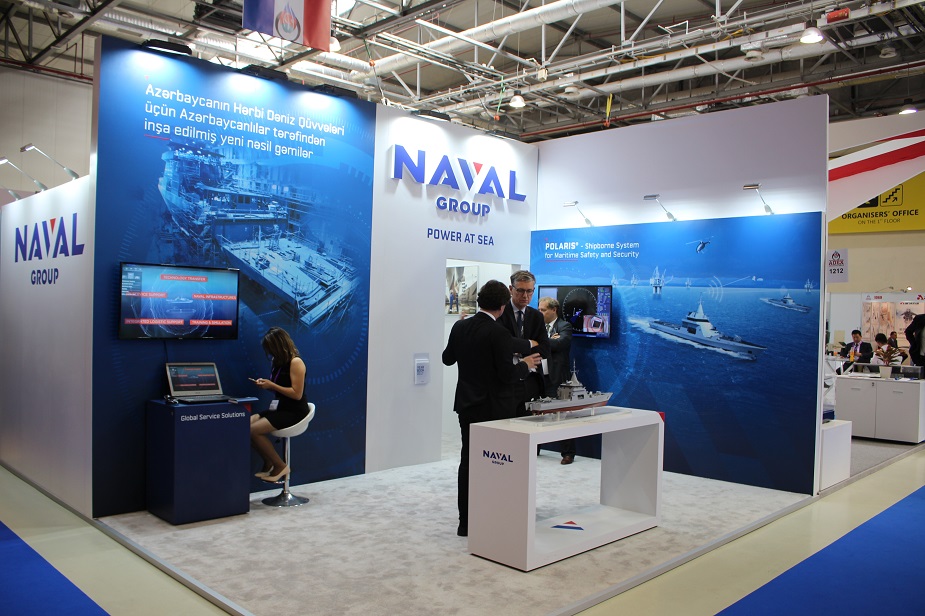 Naval Group stand at ADEX 2018

---
L'Adroit, the first-of-class of Naval Group's OPV 90, has been in service with the French Navy since 2012.
OPV 90 introduces a host of innovations. The ship's surveillance capabilities rely on an innovative architecture with a single mast and a 140-sq.m bridge offering panoramic visibility, a defining feature for an operational surface vessel. The dome atop the enclosed mast houses the entire sensor suite. From the bridge, watch officers have a 360° view from the ship's hull to the horizon without the least obstruction or blind spot. The compact topside leaves ample space for a 5- to 10-tonne helicopter or an unmanned aerial vehicle, while the stern ramp can launch and recover two rigid hull inflatable boats (RHIBs) simultaneously in less than five minutes.
Another key innovation is the ability to deploy unmanned aerial and surface vehicles (UAVs & USVs) at sea. UAVs carrying various sensor packages are used as forward data collection platforms, giving OPV 90 a clear operational advantage on new maritime security missions.
Target data gathered by a UAV can be processed in real time by the ship's Naval Group-designed Polaris combat management system (CMS). The Polaris® CMS provides the officer of the watch with a comprehensive picture of the tactical situation and includes the NIDL®, a tactical data liaison module allowing the exchange of tactical situation and files. The Polaris® and the NIDL® are fully sea-proven with the French Navy.
Thanks to her multi-mission capabilities and long range autonomy with an optimized crew, the OPV 90 will ensure the Naval Forces of Azerbaijan an outstanding rapid response capability as well as an increased permanence at sea.
---