---
The U.S. Navy, through its Mine Countermeasures Mission Package (MCM MP), successfully completed shipboard integration of two unmanned systems on its Littoral Combat Ships (LCSs). These two unmanned systems are the Knifefish Unmanned Undersea Vehicle (UUV) and the Unmanned Influence Sweep System (UISS).
---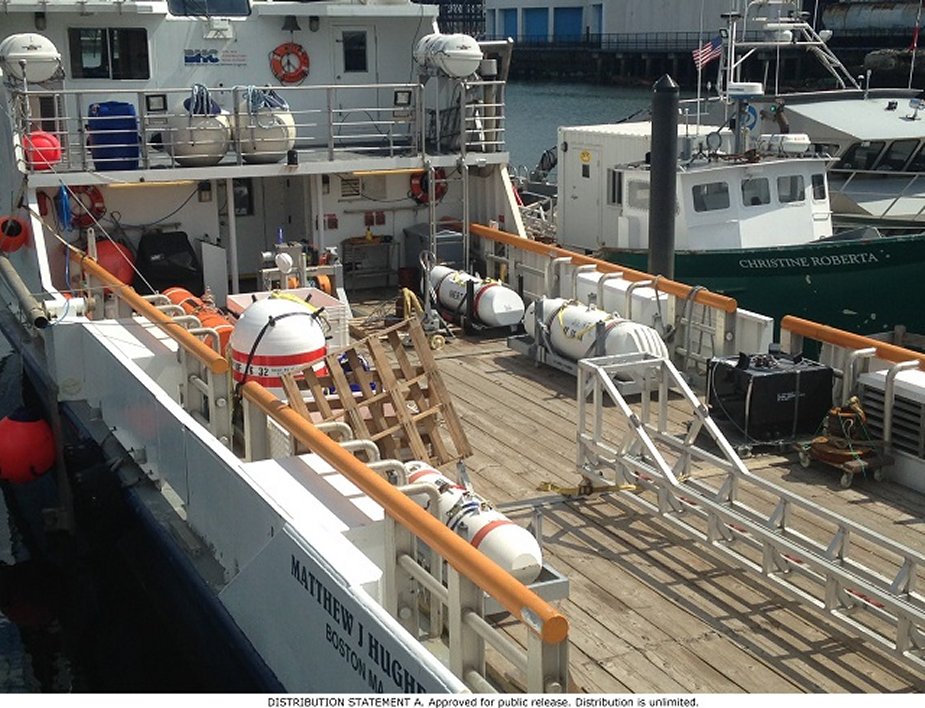 Navy mine test targets being readied for Knifefish at-sea mine-hunting evaluation (Picture source : GDMS)
---
According to NAVSEA, the MCM MP uses a system-of-systems approach to target specific portions of the water column and segments of the MCM detect-to-engage sequence. During this testing, both the Knifefish (UUV) and the UISS have proven their reliability and efficiency. They both have executed multiple launch and recovery evolutions from the Independance-variant LCS.
In the past, during its first trials, the Knifefish system successfully demonstrated its ability to detect, classify and identify potential mines, at a variety of depths, each of which would pose a unique threat to naval vessels operating in a mission area. Knifefish will reduce risk to personnel by operating in the minefield as an off-board sensor while the host ship stays outside the minefield boundaries.
Both these unmanned systems will be part of a wider programme that also includes MH-60S helicopters and MQ-8B fire scout unmanned helicopters as mine countermeasures. These two airborne MCM systems provide combatant commanders the ability to rapidly deploy systems that can detect near-surface mines as well as neutralizes mines in the water and on the bottom without requiring Sailors to sail into the minefield.
In addition to all these MCM unmanned systems, an other one is to be deployed from the LCS, the Coastal Battlefield Reconnaissance and Analysis System, which is a vertical-take-off UAV payload. This UAV provides the support needed to amphibious assault missions, thanks to its beach zone mine-detection capability.
---