a
World Naval News - China / Russia
Russia refuses to sell arresters for Chinese aircraft carrier
Construction of the first Chinese aircraft carrier faced new unanticipated problems; it turned out that the former Soviet carrier Varyag was not equipped with arresters, and it is unclear where China could get them. In 2007 news agency Kanwa exclusively reported from St. Petersburg that China would buy 4 arresters designed by Marine Engineering Research Institute and made by Proletarsky Zavod plant which produces all Russian arresters and arresting hooks. Earlier on, China had contacts with this plant purchasing constituent parts for Project 956E/EM destroyers.

Kanwa reported referring to a source in the plant that the Chinese had visited it many times and declared intentions to purchase at least 4 arresters (the source used the term "purchase"). The talks took place in the office of Rosoboronexport; negotiators of Proletarsky Zavod presented their production, and the Chinese requested for technical information.

In 2011 the authoritative source told to Kanwa reporter that the negotiations were facing unexpected problems – Russian defense industry's authorities had decided not to sell arresters for China.

According to the source, China managed to get arresting hooks from Ukraine instead of buying them directly from Marine Engineering Research Institute and Proletarsky Zavod plant; those arresters were suitable for operational training aircraft JL-9 and "copied" J-15.

What made Russia refuse to sell arresters to China in the very nick of time? Kanwa repeatedly asked Russian defense and foreign ministries about China's purchase of Russian aircraft carrier construction technology. Official reply was the same: "it is prohibited to export strategic armament systems to China. Aircraft carriers, nuclear-powered submarines, nuclear weapons production technologies – all that are strategic arms".

However, Kanwa inquired into the subject and it became apparent that real cause of the problem is not only "the ban on strategic arms exports to China" but Russia's discontent with China copying deck-based fighter Su-33. Take note, Marine Engineering Research Institute delivered two arresters for Indian aircraft carrier IAC and modernized Admiral Gorshkov. The institute also took part in construction of naval aviation training center built on Goa, India.

In 2007 the source told to Kanwa that designing and production of arresters was quite complicated process and only Russia and the US had appropriate technology at the moment. "In the past, there used to be four arresters on an aircraft carrier, but the new Indian carrier is equipped with only three arresters, which indicates of high reliability of Russian systems".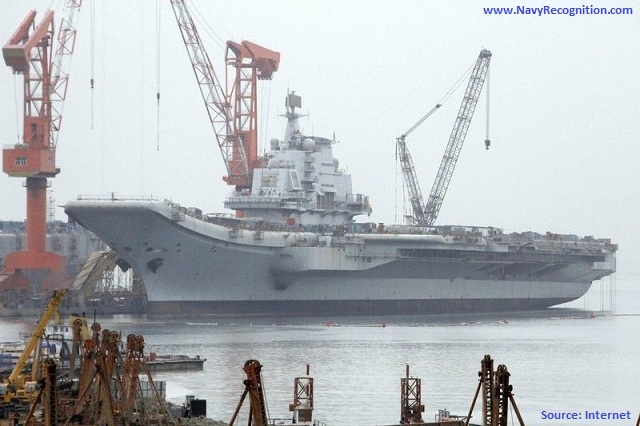 Ex- Varyag during refit in Dalian
Representative of Rosoboronexport A. Plotnikov recently told to Kanwa that "China really wanted to buy arresters but we did not sell them". This confirms the assumption that China has not Russian arresters in inventory. In 2006 director of Marine Engineering Research Institute and Proletarsky Zavod plant told to Kanwa reporter that China was about to purchase four arresters and the parties had held several rounds of negotiations. However, in 2011 he said that "we've received an unexpected instruction from Moscow to cut off all contacts with Chinese partners. In other words, we cannot deliver arresters to China as well as other equipment for their aircraft carrier".

Russian foreign ministry stated later on that "strategic armaments and technologies will not be sold to China".

All abovementioned facts illustrate why arresters have not been delivered to Yanliang air training center by Aug 2010 and why they were not mounted on ex-Varyag carrier by the time of her first sortie. As for Kanwa, construction of Chinese aircraft carrier may face considerable problems.

According to A. Plotnikov, there are some old arresters remained in Ukraine, and China could purchase them. However, even if China really buys them such arresters might be used only as presentation samples. Ukrainian air training center NITKA is not equipped with large number of arresters.

Moreover, after buying of Ukrainian arresters and studying their design China would need some time to develop own analogs.
From: Rusnavy