a
World Naval News - China
China's refitted aircraft carrier sets sail for 2nd trial at sea
China's refitted aircraft carrier sailed for its second sea trial on Tuesday for relevant scientific research and experiments, Chinese Ministry of National Defense said in a press release. According to the press release, prior to sailing, the aircraft carrier had completed all the refitting and testing work as scheduled after its first sea trial in August.

The carrier was originally built by the former Soviet Union which named it Varyag, yet failed to complete the ship's construction before collapsing in 1991. The still-unnamed aircraft carrier was an empty shell. Ukraine disarmed it and removed its engines before selling it to China.

The vessel, an Admiral Kuznetsov class aircraft carrier which measures 304.5 meters long and 37 meters wide, with a displacement of 58,500 metric tons, has been totally refitted for its new role as a research and training platform in China.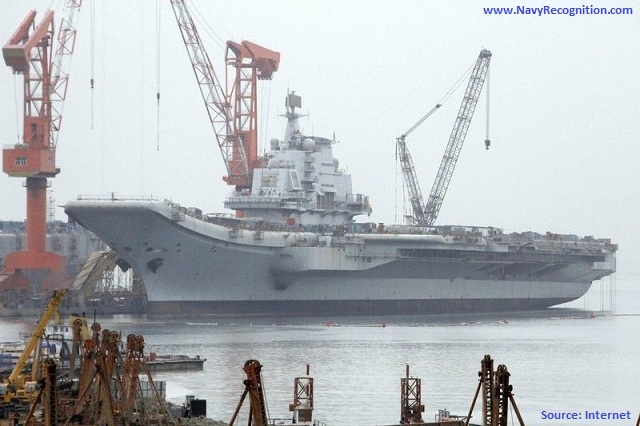 Ex- Varyag during refit in Dalian
The vessel departed for its first trial from a port in Dalian, a city in northeast China's Liaoning Province on Aug. 10.
The building of an aircraft carrier is a long and complex project. In the building process, there will be a series of scientific research experiments and training exercises, and such activities are routine and normal.
From: xinhuanet