a
World Naval News - North Korea
NK submarine exercises in Yellow Sea becoming more frequent
North Korea has stepped up its submarine drills this year, but the South Korean Navy hasn't been able to detect the vessels, an opposition lawmaker claimed Monday. Shin Hak-yong, a member of the main opposition Democratic Party who serves on the parliamentary committee on national defense, said there were 50 North Korean submarine drills in the Yellow Sea through the end of August this year, up from 28 drills over the first eight months of 2010.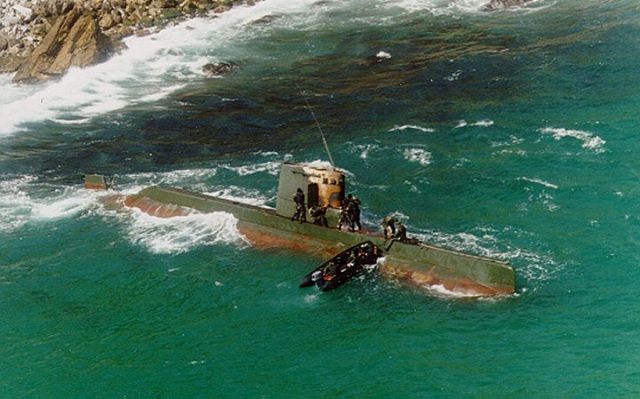 North Korean Navy Sang class indigenous submarine
(source: Internet)
Shin said there were only five such drills in the January-August period in 2009, and only two over the same period a year earlier.
Shin said North Korea's semi-submarine exercises jumped from 14 in the first eight months of 2010 to 22 this year.
Last March, North Korea torpedoed the South Korean warship Cheonan, killing 46 sailors aboard. Eight months later, it bombed the border island of Yeonpyeong and killed four, including two civilians. The Yellow Sea has also been a site of three naval skirmishes between the Koreas since 1999.
In the East Sea, the number of North Korean submarine drills went up from 25 to 39 over the past year, Shin said. The lawmaker noted that most of the East Sea exercises took place between June and August.
Shin said North Korea also owns about 260 high-speed landing crafts and flying hovercrafts for landing operations. The North's new naval base in Koampo in Hwanghae Province near the Yellow Sea could be nearing completion, Shin added.
Shin said South Korean patrol boats and anti-submarine frigates are outdated and have been unable to detect North Korean submarines.
According to his data, a patrol boat named Sokcho failed to identity any North Korean submarines during a three-day exercise in August last year.
In the first and fourth quarters of last year, patrol ships and frigates at the Navy's 2nd Fleet Command detected only about a third of North Korean submarines participating in drills.
Shin said while newly built destroyers have better detected submarines, patrol vessels are still responsible for guarding the coast. He added the poor performances by patrol ships leave the Yellow Sea vulnerable for more North Korean provocations.
"Destroyers must be deployed near the border islands in the Yellow Sea to prepare against provocations," Shin said. (Yonhap)