a
Naval Forces News - Russia
Russian Navy to Receive Verkhoturye SSBN (Projet 667BDRM Delfin – Delta-IV) in November 2012
Nuclear-powered ballistic missile submarine (SSBN) Verkhoturye on March 24 was withdrawn from covered slipway of JSC Zvezdochka Ship Repair Center. A solemn ceremony of bringing of strategic nuclear submarine took place at the shipyard for the occasion.

Repair of the hull, overboard systems, survivability systems, mechanisms and equipment of the steam unit and other systems was done at the submarine. Completion of work on restoration of technical readiness will be done afloat near the mooring line of the finishing embankment. The submarine will be handed over to the Navy in November of 2012.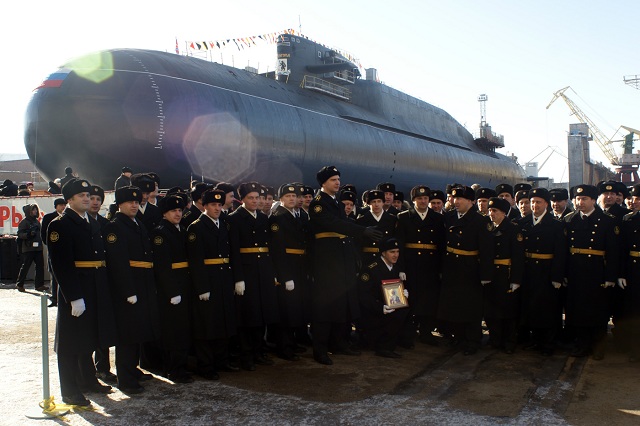 Refited Verkhoturye SSBN (Project 667BDRM Delfin) during the ceremony at Zvezdochka shipyard
(Picture: http://kuleshovoleg.livejournal.com/34689.html)

Project 667BDRM Delfin nuclear-powered subs are basic assets of Russia's maritime nuclear deterrence force. Their construction was started in 1981 at Sevmash shipyard. In total, the Russian Navy received seven submarines of the class between 1984 till 1990. Presently, Russian Navy operates six of them. Zvezdochka shipyard has repaired and modernized all of them from 1999 to 2012. Verkhoturye SSBN – lead sub of the class– was laid down at Sevmash shipyard in February 1981.