a
Naval Forces News - India
Indian Navy Commissionned INS Chakra, Russia's ex-Nerpa Akula II Nuclear Sub
The Indian Navy officially commissionned Russia's K-152 Nerpa nuclear-powered attack submarine on Wednesday. The Project 971 Shchuka-B (NATO: Akula II) class sub has been leased to India's Navy for ten years in a contract worth over $900 million. It was handed over to India in January and has been renamed the INS Chakra.

The commissioning ceremony took place at the Visakhapatnam sea port on the east coast of India.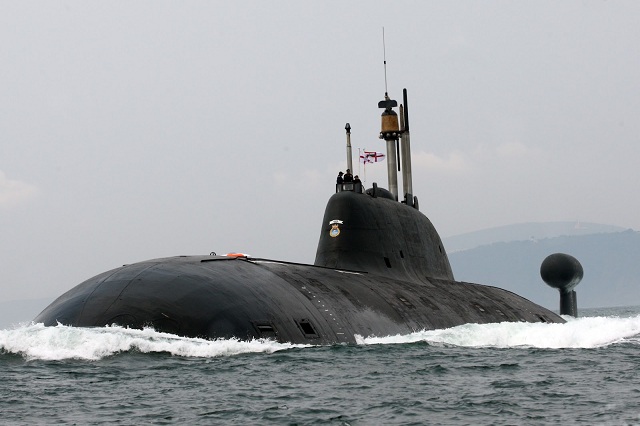 INS Chakra nuclear-powered attack submarine
(picture: Indian Navy)
The submarine's displacement is 8,140/12,770 tons. Its maximum speed is 30 knots, maximum operating depth, 600 m; and endurance is 100 days with a crew of 73. The vessel is armed with four 533mm torpedo tubes and four 650mm torpedo tubes.

India has become the sixth operator of nuclear submarines in the world, after the United States, Russia, France, Britain and China, though it previously leased another Russian submarine which was then returned.

Twenty sailors died on the Nerpa in 2008 after the vessel's fire-suppression systems were accidentally triggered during sea trials, releasing toxic gases.