a
Naval Forces News - India
INS Vikramaditya (ex-Russian Carrier "Admiral Gorshkov") to start sea trials on May 25
A Former Russian aircraft carrier (Soviet-built Admiral Gorshkov) which was being refurbished for the Indian Navy is being prepared to begin its first set of sea trials. These trials are expected to last through the spring and end with a delivery to the Indian Navy planned for late 2012.

The vessel, which was originally intended for the Soviet Navy, but then refitted for India, will be taken to the White Sea and then to the Barents Sea where it will stay for three to four months.

"After sea trials are complete, we plan to transfer the carrier to India by December 4," Sevmash said.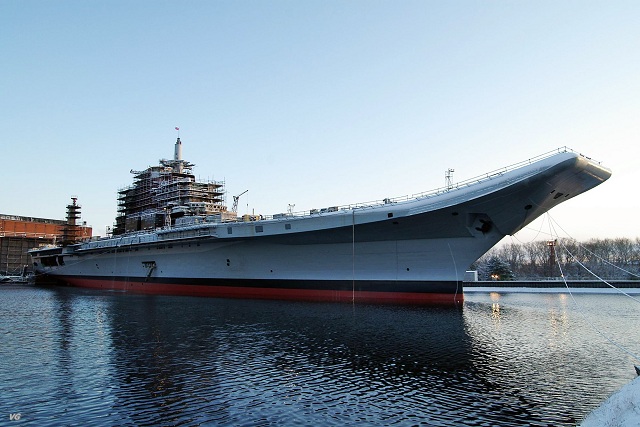 INS Vikramaditya, ex-Admiral Gorshkov during refit
(Picture: Internet)
At present, the Vikramaditya's main power generators are being tested and the sleeping and living quartes are being fininshed. Crew training was completed in late March, Sevmash said.

The Vikramaditya, previously known as the Admiral Gorshkov, is a Soviet-made Project 1143.4 class aircraft carrier. It was sold to India in 2004 but will be delivered only in 2012, after a refit that lasted eight years and was the subject of an on-going dispute between the two sides over cost.

India has already started taking delivery of MiG-29K naval fighter aircraft for the Vikramaditya

INS Vikramaditya will be operated in a STOBAR configuration, with a 14.3 degree ski-jump on the bow and three arrestor wires on the stern of the angled deck. This will allow the operation of 16 MiG-29K (and KUB) or Sea Harrier fighter aircraft and 10 helicopters.

The vessel is expected to displace 45,000 tons full load, with a length of 283 meters.