a
Naval Forces News - Russia
Russian Navy's Novomoskovsk SSBN (Projet 667BDRM Delfin – Delta-IV) to serve until 2022 after refit
The Russian Navy's submarine Novomoskovsk has been refitted and returned to service with the Northern Fleet, and will serve another ten years before being decommissioned in 2022, Fleet Spokesman Captain First Rank Vadim Serga said on Monday.

The Project 667 type boat (NATO Delta 4) arrived at its base in the port of Severomorsk on Monday after the refit at the Zvezdochka shipyard at nearby Severodvinsk.

"The boat's life after refit and modernization will be extended by another ten years," Serga said.

The refit of the Novomoskovsk included hundreds of improvements, "making the boat quieter, increasing its ability to detect other submarines, increasing its survivability and nuclear safety," he added.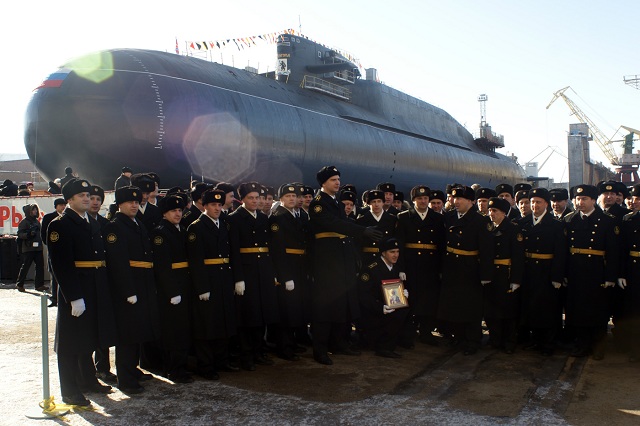 Refited Verkhoturye SSBN (Project 667BDRM Delfin) during the ceremony at Zvezdochka shipyard
(Picture: http://kuleshovoleg.livejournal.com/34689.html)

Novomoskovsk is the second Northern Fleet 667 boat to be refitted. Last year, the Verkhoturye underwent a similar refit at Zvezdochka and was returned to service.

The Novomoskovsk's refit began in 2007. The boat was originally built at Sevmash in June 1987 and entered service in 1990. The boat was the first to launch a scientific satellite into orbit with a ballistic missile in 1998. In its life, the boat launched 14 missiles, travelled over 100,000 nautical miles and made over 20 long patrols.

The 667 class boats displace 12,000 tons, have a maximum diving depth of 400 meters, a cruising speed of 24 knots and a crew of 140 men. They are armed with 16 intercontinental ballistic missiles.