a
World Navy Force News - Indonesia
Indonesian Navy to procure 24 fast boats to patrol shallow waters
The Indonesian Navy plans to acquire 24 guided-missile fast boats to be deployed in shallow waters in the western part of the country, a top Navy officer said on Wednesday. Assistant for planning to the Navy chief of staff, Rear Adm. Sumartono, said the Navy had confirmed the order for the 24 patrol boats.

"When we will buy them depends on the Defense Ministry's financial ability," he told reporters.

"They will be deployed in the western part of Indonesia and in North Sulawesi."

Sumartono was speaking at the sidelines of a visit by Deputy Defense Minister Sjafrie Sjamsoeddin to privately-owned shipyard PT Palindo Marine's facilities in Tanjung Uncang, Batam, in Riau Islands.

The company has delivered two guided-missile fast boats, KRI Clurit and KRI Kujang, to the Navy and is working on a third boat. Each boat, worth Rp 73 billion (US$7.98 million), has a top speed of 30 knots.

Palindo director Harmanto said the production of the boats was 45 percent locally sourced.

"We use special steel from state-owned steelmaker PT Krakatau Steel for the bows and hull," he said.

The 40-meter boats come with Chinese C-705 anti-ship missiles with a range up to 120 kilometers, a six-barrel 30-millimeter close-in weapons system and two 20-millimeter guns.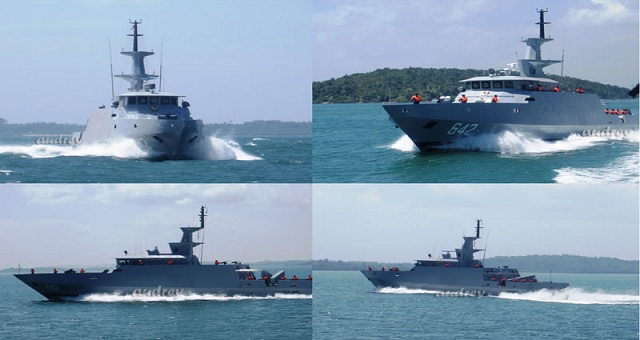 Indonesian Navy new Fast Patol Boat KRI Kujang
(Picture: Internet/audrey)
Meanwhile, Sjafrie said that private shipyards were better than state-owned ones in conducting transfer of technology (ToT) processes for naval platforms.

He said that state-owned shipyard PT PAL should copy the practices of private shipyards such as in workers' recruitment and payment to improve their performance.

Sjafrie emphasized that PT PAL had to start recruiting young workers in their 20s to be ready for ToT in the manufacture of submarines.

Indonesia has ordered three submarines from Daewoo Shipbuilding Marine Engineering (DSME) of South Korea worth $1.07 billion. The third submarine will be built at PT PAL's facilities in Surabaya.

"PT PAL has to be restructured so that its human resources can compete with those of private companies," Sjafrie said.

"Fresh graduate engineers should be paid at least Rp 5 million per month while vocational school graduates Rp 3 million."

Sjafrie stressed that there was no longer a monopoly in naval systems and the private sector had the same opportunities to win contracts as long as the requirements were met.

Also in the entourage were the ministry's Defense Facilities Agency chief, Maj. Gen. Ediwan Prabowo, former navy chief Adm. (ret) Sumardjono, PT PAL management as well as ministry officials.

In addition to PT Palindo Marine, the group also visited PT Citra Shipyard and PT Bandar Abadi to
observe their facilities.
From: Jakarta Post