a
Naval Forces News - China
Fourth Chinese Navy Type 071 LPD launched at Shanghai Shipyard
According to Chinese newspaper "Huantsyu shibao", Hudong-Zhonghua Shipyard in Shanghai (part of the Hudong-Zhonghua Shipbuilding Group Corporation, a state owned corporation) held a launch for the fourth Type 071 class LPD. The launch was timed to happen on the Chinese New Year (January 23rd).

The name and hull number of the new ship are not known yet.

The head of Type 071 class, Kunlun Shan (hull number 998), was launched in December 2006 and commissioned in November 2007. The second vessel of the class, Jinggang Shan (hull number 999), was launched in November 2010 and commissioned in October 2011. The third Type 071 LPD was launched in September 2011 (name and hull number unknown).

The fact that one vessel was launched in September and another so close thereafter in January may indicate that Hudong-Zhonghua Shipyard was able to streamline Type 071 production and is getting more efficient at large and complex vessels construction.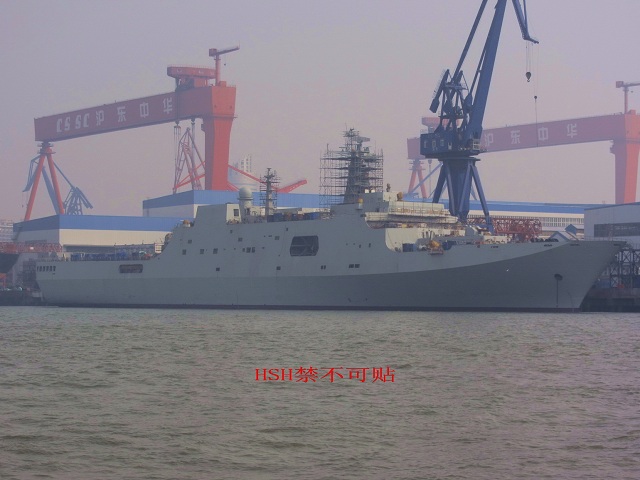 Fourth Type 071 LPD spotted at Hudong-Zhonghua shipyard in Shanghai in late January 2012
(Picture: HSH)

Type 071 (Yuzhao-class) LPD are the main amphibious platforms of the PLAN. They displace 20,000 tons, measure 210 m long and 28 m wide. The ship complement is 120 sailors.
Each Type 071 has the capacity to accomodate one marine battalion, including 500 to 800 troops, and 15 to 20 amphibious armoured vehicles. The well deck may hold four Yuyi-class LCAC.
The ship is armed with one 76 mm gun and four 30 mm close-in weapon systems.