a
Naval Forces News - USA
U.S. Navy to refit USS Ponce (LPD 15) as Navy Seals "Mothership"
According to a media report the U.S. military plans to send a floating base for commando teams to the Middle East, where relations with Iran are tense and other nations are in the midst of political upheaval.

The Washington Post newspaper on Saturday cited unspecified U.S. Navy documents saying the service plans to convert an aging warship, the USS Ponce (LPD 15), into a staging base for the commandos, calling it a "mothership."

A Navy spokesman declined to provide details on the plans or to say where in the Middle East the mothership would be deployed. The report says documents indicate the vessel could be positioned in the Persian Gulf, where Iran has threatened to block the critical oil-shipping lanes in the Strait of Hormuz.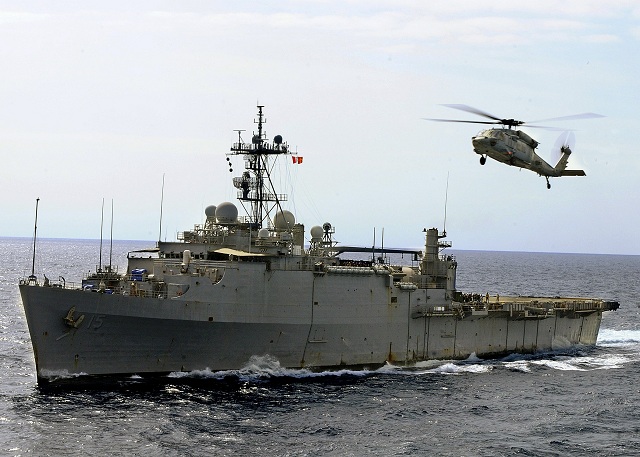 USS Ponce (LPD 15) Austin-class amphibious transport dock
(Picture: US Navy)

Other Navy officials told the Post that the Pentagon hopes to complete the conversion and send the ship to the region later this year.

The newspaper report says the base is expected to accommodate smaller high-speed boats and helicopters often used by Navy SEALS for special operations.

The USS Ponce, an Austin-class amphibious transport dock, was launched in May 1970 and commissioned in July 1971. Its full displacement is 16500 tons and its current complement is about 500 men.