a
Defense Industry News - USA
Lockheed Martin Successfully Completes First LRASM Captive Carriage Test
Lockheed Martin's Long Range Anti-Ship Missile (LRASM) sensor suite recently completed its first flight during a captive carry flight test off the coast of northwest Florida using a modified Sabreliner business jet.

The objectives of the flight test included detecting, classifying and recognizing targets. Conducted at various airspeeds and altitudes, the flight tests exceeded all objectives and demonstrated successful sensor operation, as well as integration of the sensor suite with the missile electronics. Littoral imagery was captured during the tests, and target data processing algorithms ran real-time in the missile electronics, and demonstrated outstanding performance.

"This is a tremendous step toward integrating the LRASM subsystems and getting the missile into additional flight testing," said Mike Fleming, LRASM program manager in Lockheed Martin's Missiles and Fire Control business. "Testing and validation of subsystems is on schedule and will lead to All-Up-Round flight tests in early 2013. Our experience with related missile technology development efforts, such as the Joint Air-to-Surface Missile-Extended Range program, is directly benefiting our efforts on LRASM."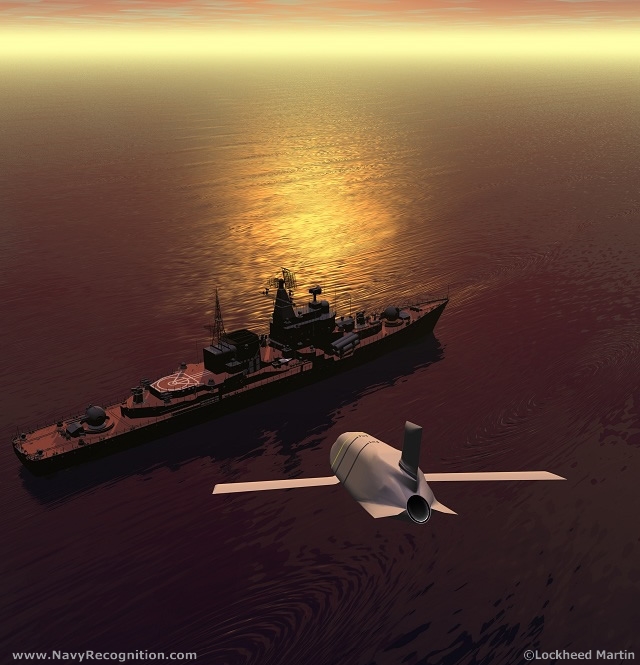 Lockheed Martin LRASM - Long Range Anti-Ship Missile (Artist Impression)
The sensor suite consists of a radio-frequency sensor to detect ships in the area, a weapon data link for communication with battlefield managers and an electro-optical seeker for positive target identification and precise targeting during the terminal phase of flight. The missile also employs an enhanced digital anti-jam Global Positioning System to detect and destroy specific targets within a group of numerous ships at sea.

LRASM is designed to meet the needs of U.S. Navy and Air Force warfighters. LRASM incorporates sensors and systems to achieve a stealthy and survivable subsonic cruise missile with reduced dependence on intelligence, surveillance and reconnaissance platforms, network links and GPS navigation in electronic warfare environments.

This stealthy missile is in development with DARPA and the Office of Naval Research. Lockheed Martin is planning to offer both surface-launched and air-launched variants to attack sea-based targets at significant standoff ranges.