a
Naval Industry News - France
DCNS: Profitable Growth Continues in First Half of 2012 in Line with Championship Strategic Plan
"DCNS performed very well during the first half of 2012. Our growth was in line with our target to double Group revenue between 2010 and 2020. The outstanding commitment of all DCNS teams contributed to the further increase of our performance, once again in line with our targets. These achievements improve our competitiveness on our key markets while enabling us to invest in the future. Despite the current economic environment, this is all to our advantage as we strive for success," said Patrick Boissier, Chairman & CEO of DCNS.

In the first half of 2012, orders intake reached €813 million, compared with €1.2 billion in the first half of 2011. Major H1 2012 orders included through-life support for the French Navy's submarines and FREMM multi-mission frigates.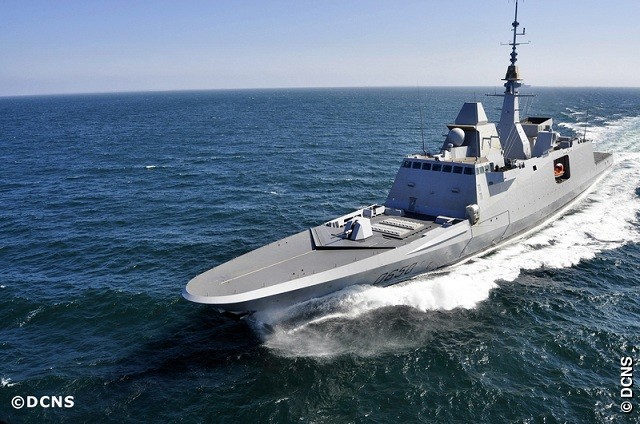 DCNS FREMM Frigate "Aquitaine"
(picture: DCNS)

At end June 2012, DCNS' order book was worth €14.2 billion, stable compared to end June 2011. This represents five years of revenue. This strong order book fuels the Group's future growth.

Revenue increased to €1.4 billion, compared with €1.2 billion for the first half of last year, thanks to good progress on industrial programmes for the French Navy (Barracuda submarines, FREMM frigates and through-life support for front-line ships) and in Brazil, India and Russia.

For the first half of 2012, DCNS operating profit before impact of PPA increased to €98 million, or 7.0% of revenue, compared with €85 million, or 6.9% of revenue, for the same period last year. The Group is reaping the benefit of the transformation programme launched in 2010 as part of the championship strategic growth plan. This strong bottom line will enable DCNS to continue to invest in technological innovation, market development as well as industrial resources and skills.

The full-time equivalent employee headcount increases to 12,987 as of June 2012 from 12,742 twelve months earlier.

H1 2012 highlights in chronological order
- First ocean thermal energy-conversion onshore prototype set up on La Reunion Island.
- EDF preselects DCNS to build new electricity generating plant on Saint-Pierre-et-Miquelon islands off Canada.
- DCNS and STX France deliver BPC Dixmude to DGA three months ahead of schedule.
- DCNS successfully tests MdCN naval cruise missiles, torpedoes and helicopter flight deck operations aboard FREMM Aquitaine.
- DCNS and STX France win contract to provide through-life support (TLS) services for French surveillance frigates based overseas.
- DCNS wins contract to provide TLS services for French Navy's Horizon frigates.
- DCNS launches construction of two BPC-type vessels for Russia.
- DCNS signs contract with Alderney Renewable Energy to develop tidal stream turbines in the Channel.
- Submarine construction programmes in Brazil, France and India report good progress.
- DCNS signs agreement to reserve land near Cherbourg for new industrial facility to produce tidal stream turbines.
- DCNS inspires international Océanides project promoting research into maritime and naval history.
- DCNS delivers fourth Skjold fast patrol boat to Norwegian Navy and books order to modernise combat systems.
- DCNS Research signs cooperation agreement with Indian Institute of Technology (IIT) in Bombay.
- DCNS design innovations contribute to success of first operations by Gowind OPV L'Adroit.