a
Naval Forces News - Royal Navy
HMS Sutherland (Type 23 frigate) in gunnery exercises off Gibraltar
HMS Sutherland has stopped off at Gibraltar to take part in a series of gunnery exercises as she begins her six-month deployment. The Rock was the first port of call for the Devonport frigate as she makes her way towards the Indian Ocean to take over from HMS Westminster on a counter-terrorism/counter-piracy patrol.

The exercise began with the 30mm cannon set to automatic. The gun can fire up to 200 rounds a minute; a shell leaves the muzzle travelling at around 3,500 feet (3,840km) per second - 2,386mph (3,840km/h) - three times the speed of sound - which means it reaches its maximum range three miles (5km) from the Type 23 frigate in under five seconds.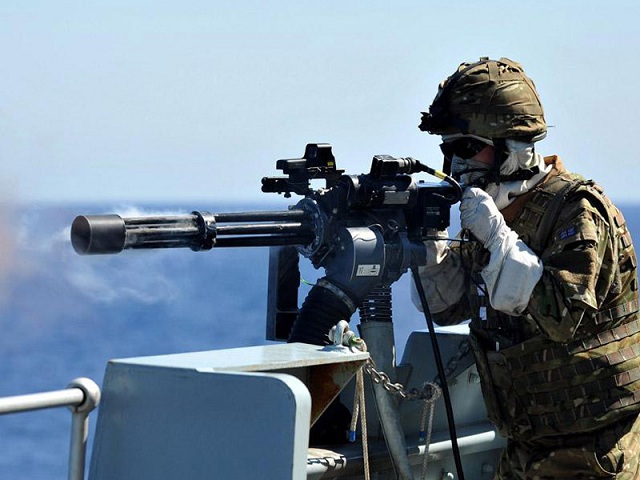 A sailor onboard HMS Sutherland conducts live firing off Gibraltar
[Picture: Leading Airman (Photographer) Ben Sutton, Crown Copyright/MOD 2012]
The live firing was part of a series of naval gunfire support exercises with the Army's 148 Battery Royal Artillery as specialist observers, who also help direct the guns of the Royal Navy in time of conflict; as they did with HMS Sutherland off Libya 12 months ago.

The main 4.5-inch (114mm) gun was also fired up, with shells travelling a little slower, at 2,500 feet (2,743km/h) per second - 1,705mph, or twice the speed of sound, but with greater range (about 12 miles [19km]) and packing much more of a punch.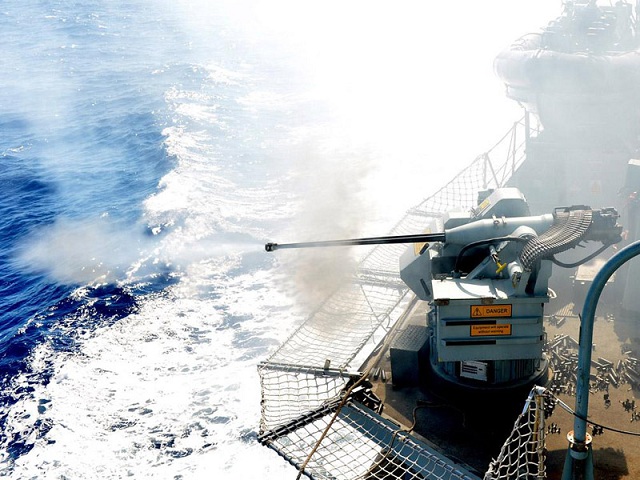 HMS Sutherland's 30mm gun during the live firing exercise off Gibraltar
[Picture: Leading Airman (Photographer) Ben Sutton, Crown Copyright/MOD 2012]
The exercise allowed the 200-strong ship's company to build on the two intensive spells of training they completed off the South Coast of England, under the wings of the Flag Officer Sea Training organisation in Plymouth, during the past six months.

Once alongside in Gibraltar itself, some of the more active sailors ran the famous Rock Race - run 2.7 miles (4.3km) from the ship to the top of the Rock, climb 1,300 feet (396m), and avoid the resident apes.

One member of Sutherland's Royal Marines detachment decided it would be a challenge to complete the race running backwards (he reached the top in under one hour), and a couple of shipmates both lugged a heavy bag all the way to the top.
HMS Sutherland conducts a live firing exercise with the ship's main gun off Gibraltar
[Picture: Leading Airman (Photographer) Ben Sutton, Crown Copyright/MOD 2012]
To give military and civilian staff at Commander British Forces Headquarters an insight into life aboard a Type 23 frigate, Sutherland offered the opportunity for them to join the ship at sea.

Commander Al Wilson, HMS Sutherland's Commanding Officer, said:

"Gibraltar is an iconic visit for sailors of the Royal Navy and always keenly anticipated.

"My ship's company enjoyed the wide variety of sporting and social activity that Gibraltar has to offer, as well as utilising the time to consolidate mission-focussed training ready for operations."

Source: British MOD